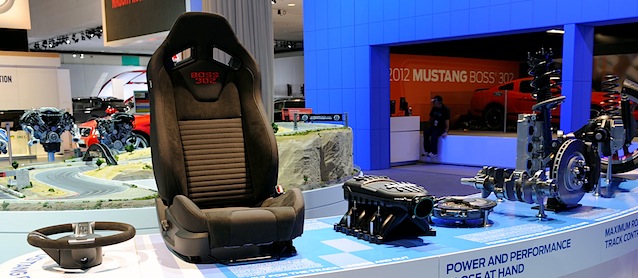 When Ford's engineers were designing the cabin for the 2013 Mustang Boss and Shelby Cobra GT500, they knew their GT bucket seats wouldn't cut it. So they called upon legendary seating manufacturer Recaro for help.
Recaro stepped to the plate and hit it out of the ballpark with their design. Their concept has all of the styling of a super-car racing seat with OEM practicality – even including SRS airbags in the outer bolsters.
Personally, I love the design. At first glance my eyes were drawn to the embroidered logos, displayed in their own panel like a plaque hanging on a wall. If Recaro's trademarked high bolsters aren't enough to keep you stuck in your seat, I bet the suede they're wrapped in will glue you in place. Since the Mustang comes with shoulder belts, the cutouts in the backrest are more for design than function. But it's nice to know you can add a four point harness if you want.
In my opinion, Recaro can do no wrong. For years they've manufactured the most beautiful seats on the market. It's no wonder they've supplied elite auto makers like Lamborghini, Ferrari, Porsche and Aston Martin.
Check it out for yourself and let us know what you think in the comments section below.