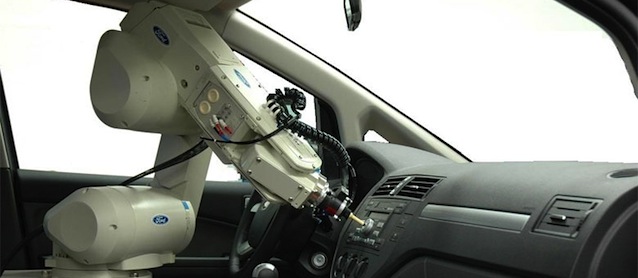 Car owners prefer soft-touch surfaces in their vehicle cabins – that's a fact. But how soft is soft enough?
To answer that question, Ford is using a robot it calls RUTH to measure comfort and standardize quality. While the system has been employed in Europe for years, it has only recently come to American shores.
RUTH – which is short for Robotized Unit for Tactility and Haptics – uses a complex system of sensors to quantify what passengers feel when they sit inside of a car. TopSpeed explains:
[T]his is a robot that uses sensors to determine the pain, pressure, or heat that a human's skin would feel when touching something, which then turns that touch sensation into scalable data. […]
RUTH then uses data that Ford has collected from thousands of customers around the world and determines if the pieces it tests meet the collective wants of Ford buyers. From there, Ford engineers can adjust the texture, feel, softness, or even temperature of something in the cabin. [more]
Ford uses the system because it measures data faster and more objectively than traditional technicians who are susceptible to personal bias. Through RUTH, Ford is able to standardize quality – manufacturing one-size-fits-all interiors comfortable enough for a majority of Americans.
Didn't we tell you robots are taking over the industry?