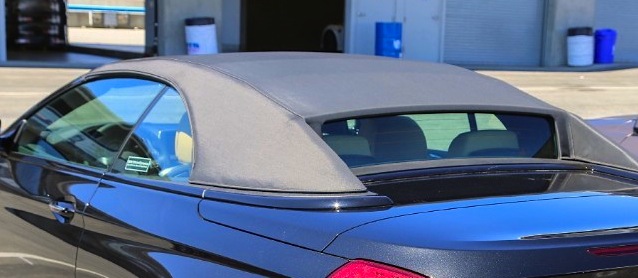 When it comes to convertible tops, the automotive industry never runs short of ideas. In the last year alone, we've seen everything from racing-stripe canvas to telescopic multi-panel roofs. Now BMW is making headlines with its shimmering "moonlight black" ragtop.
The top, which features shiny metallic fibers woven throughout its black canvas, initially debuted in 2008 on the BMW 1-Series, but has garnered renewed interest after having recently been spotted on the all-new M6.
The canvas used to make the top is a favorite among BMW enthusiasts because it shimmers under sunlight – adding even more flair to an already stylish car. According to Auto Spies, which spotted the new M6, the "moonlight black" convertible top looks especially nice when paired with metallic body paint.
As for auto upholstery shops, aftermarket manufacturers make replacement tops for the BMW 1-Series. However, I haven't come across any company that offers them in "moonlight black". Personally, I'd love to see the canvas available – as the metallic shimmer would look great on any number of cars.
Check out the following photos of the 2013 BMW M6 convertible snapped by Auto Spies: