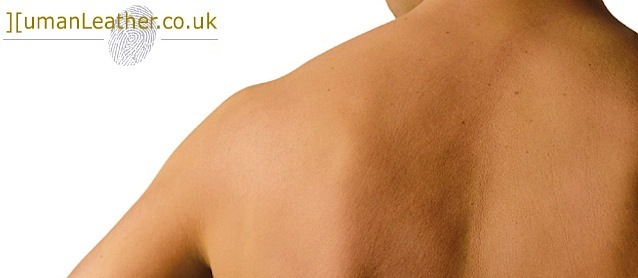 Speaking of new sources of leather, one company in the U.K. recently peaked our interest for its alleged use of human hides. The company – aptly named Human Leather – claims to be a retailer of "exclusive real human leather products".
According to Human Leather's website, the company is comprised of "artisans, craftsmen and buyers" who work together to produce "exquisite and exclusive products for an extremely discerning clientele".
The company declines to publish photos of past projects (supposedly in the interest of its clientele's privacy). And, with the exception of a single email address, does not divulge its contact information or instructions on how to place and pay for orders.
It does, however, publish an interesting (and somewhat eerie) FAQs page:
What is Human Leather?
Human Leather is made from real full thickness human skin. Just like animal leather products, produced from lesser animals, our raw human skin is transformed into the finest grade human leather by using a traditional tanning process. However, human leather is the finest grain leather that is obtainable.
It is free from defects and has the smallest grain size which makes it the smoothest, softest leather on Earth.
Human Leather Products
We only craft the best and most beautiful products out of our unique leather. We have produced bespoke items for some of our clients, but due to the limited size of the lengths that we work with, we are limited to what items we can fashion out of the leather. We usually have individual commission orders and stock items have not been for sale for over seven years.
Where does Human Leather come from?
Human Leather is produced from skin sourced from normal everyday people. These people have bequeathed their skin to us prior to their death. There are a few areas of the body, (back and abdomen) that have uninterrupted skin coverage, and are therefore the best for processing into Human Leather. These areas allow the maximum usage when being crafted into large coverage items, especially satchels and briefcases. […]
Why are your products so expensive?
We cater to a small but highly discerning clientele. They are amongst those lucky few who have everything they could possibly desire. Our supply is restricted and we prefer to keep it that way as we are the only firm in the world that crafts these special products.
Just how expensive are Human Leather's products? Wallets starts at $14,000, belts at $15,750 and shoes at $27,000. With prices like that, we can't even imagine what shift boots and steering-wheel covers start at (or why anyone would even want one!).
So how is this even legal? We don't know.
Human Leather claims that what they do is legal, but fails to elaborate. While we've attempted to contact the company several times for more information, we have yet to receive a response.
For what it's worth, we hope this is just one big elaborate joke.
For more information on Human Leather, visit: www.HumanLeather.co.uk