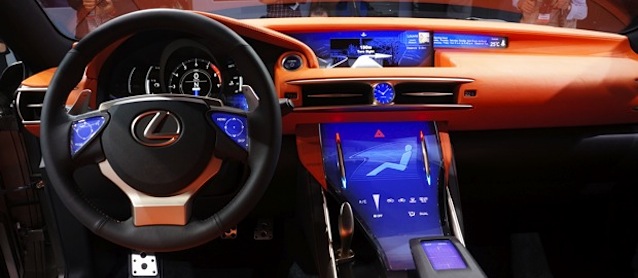 You've heard of touch-sensitive fabrics and digital dashboards, but how about touch-sensitive dashboards? The new Lexus LF-CC features just that – a full-on driver interface that works like an iPhone.
The concept car, which recently made its debut at the 2012 Paris Auto Show, is a tech geek's dream – featuring digital screens in its dash, steering wheel, center console and armrest that are controlled simply by touch.
Tech blog Engadget explains:
The LF-CC's interior makes use of a number of large, bright displays to present all information to the driver. Behind the steering wheel is a digital dashboard — nothing too uncommon there — but in the center of the car is a large multi-function unit that shows typical vehicle information and telematics. Mainly, navigation and the like. Below that is an even larger panel that gracefully sweeps down between the seats. This is fully touch-sensitive and replaces the clumsy, button-heavy center consoles found in many luxury cars. Think of it as a more organic evolution of the 17-inch touchscreen wedged in the center of the Tesla Model S. Finally, there's a smartphone-sized touch display integrated into the armrest. [more]
According to Lexus, "The LF-CC's interior hints at the progressive luxury of a future Lexus model cabin layout, and represents a further development of the company's HMI (Human Machine Interface) design philosophy."
In other words, this is the future of Lexus interiors.