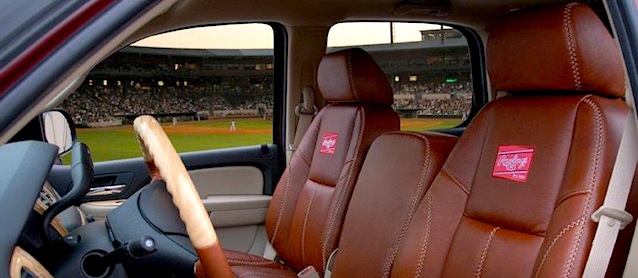 Baseball fans brace yourselves, the MLB postseason is finally here! And with it comes the usual fun and excitement of ace pitching, clutch hitting and game-changing runs. For auto upholstery shops, there's also the added bonus of selling baseball-inspired leather interior kits – sold by Katzkin and officially licensed by Rawlings.
For the past 125 years, Rawlings has produced top-notch baseball equipment for professionals and amateurs alike. They sponsor many of the sport's elite athletes and are the creators of the coveted "Gold Glove Award".
In 2008, Katzkin Leather Interiors Inc. teamed with Rawlings to create an automotive leather interior package inspired by Rawlings' rich history of making baseball gloves. That collaboration resulted in officially licensed seat packages available in both black and distressed brown. If the timeless colors don't instantly remind you of a Rawlings mitt, the patch sewn on the backrest will.
The Rawlings package is available for every make and model that Katzkin patterns. Some seat covers even have baseball cross-stitching instead of French seams. However, this feature is limited to select models due to interference it could cause with seat-mounted airbags.
Cash in on Postseason
While Katzkin offers these seat covers year round, now is the perfect time to advertise that you install them. The postseason hype will be intensifying over the next month; and baseball-related merchandise will fly off of store shelves. Fans looking to show their love of America's favorite pastime in a new and exciting way will gravitate to these baseball-inspired seat covers.
Take to your website, Twitter and Facebook accounts to let your customers know that you install Katzkin–Rawlings seat covers. Contact local dealers to encourage them to sell upgrades through your shop. Don't let this opportunity pass. Take advantage of the times and reap the profits.
In baseball, timing is everything – and the same goes for strategic advertising. Besides, how cool would these seat covers look in the tailgating lot?
For more information, check out www.Katzkin.com.