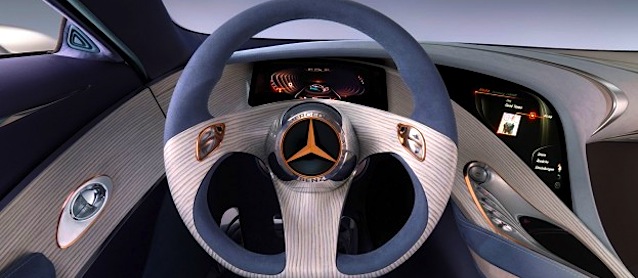 Long gone are the days when the only mobile electronics that auto trimmers had to contend with were map lights, power seats and sunroofs. Today's interiors are more electronic, digitized and complex than ever before – and we've only begun to scratch the surface of what's to come.
Automotive Megatrends, a new online magazine, recently published an interesting article examining "how connectivity and infotainment is shaping the vehicle interior and the in-car experience". The article is a must-read for automotive professionals – especially trimmers, whose craft continues to be affected by advancements in the mobile electronics industry.
Automotive Megatrends explains:
The car industry managed to maintain more or less the same user interface and interior experience for the majority of it first 100 years, with AM/FM radio being the primary connection to the outside world.
The age of vehicular connectivity really started when General Motors introduced its OnStar telematics service in the mid-nineties and soon made it available in the bulk of its product portfolio. … The in-vehicle experience has since continued to grow at a fast pace. […]
Consumers, especially the younger generation, are looking for many of their mobile device experiences inside the vehicle. […]
OEMs are responding by redefining the interior through the introduction of things such as large displays, touch controls, capacitive switches, voice recognition. […]
In principle, future consumers living in a smart and connected home will be able to manage all their home systems – appliances, security, entertainment – right from the in-vehicle interface. … The early phase of developing the optimum user interface and interior experience to support connectivity is already under way. [more]
In short, sci-fi cars – like Michael Knight's KITT – are quickly becoming a reality. In fact, it's likely that there have been more advancements in mobile electronics in the last 15 years than the prior 40 years combined.
Not surprisingly, these advancements have ushered in a new era of trimming. Car seats, for example, are no longer just chairs. They're full-on experiences – equipped with heaters, coolers, heart-attack detectors, lane departure warning systems, air-bag activating monitors and much more.
Trimmers are expected to upholster with and around these systems – often times teaching themselves and learning on the spot.
To stay afloat and remain competitive, shops will need to keep pace with these advancements. Many trimmers – especially those with an affinity for the old school way of doing things – will also need to re-examine their thoughts on the nature of this craft.