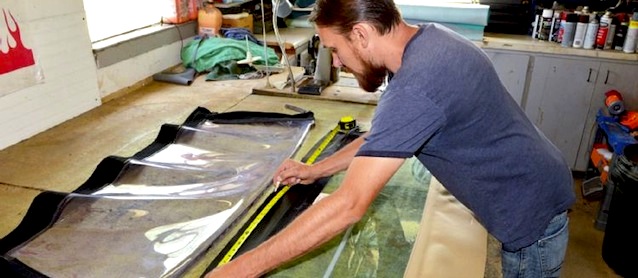 I've always been a fan of classic cars with modern upgrades. Fortunately, in our field, there's no shortage of aftermarket parts that we can install to enhance the look, feel and function of retro cars.
In the past, we've written about modern car seats and consoles made to fit in old-school cabins, but virtually any aspect of a car's trim can be upgraded – including its convertible top and window.
Mustang Monthly recently tapped Troy & Christy Anderson of Troy's Upholstery in Amarillo, TX to upgrade the convertible top on a 1965 Ford Mustang from vinyl canvas with a plastic window to a stayfast cloth top with a folding glass window.
The step-by-step pictorial they provide for the installation is definitely something you want to check out – especially if you've never installed a folding-glass window before (or haven't seen it done on a '65-'66 Mustang).
To view the pictorial in its entirety, see Mustang Monthly's "Install a Folding Glass Rear Window".