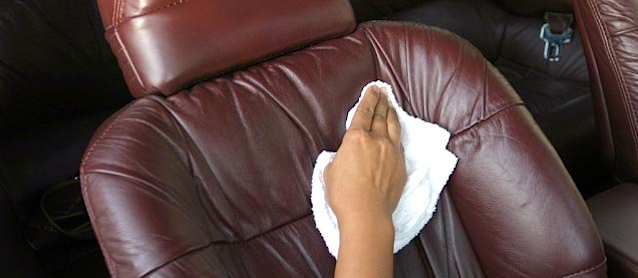 I've never fancied myself a detailer – so when customers ask me to shampoo their vehicles' carpets or cloth seats, I usually direct them to the nearest carwash. I do, however, offer leather-care service. Allow me to explain why…
As a professional auto trimmer, I know how quickly a beautiful leather interior can be ruined if left unkept. Without proper care, a hide's natural grains become more pronounced and begin to crack. Its once-soft touch is replaced with a dry, hard, cardboard feeling. And don't even get me started on perforation – it's like playing connect the dots!
The solution, of course, is proper cleaning and conditioning. If done regularly, it can extend the life of any leather interior.
Sadly, most car owners don't realize this until it's too late. To help, I've taken it upon myself to educate my customers and offer them professional care.
The work is fairly simple and quite profitable. I usually start on one section, like the driver-side seat base, spraying it liberally with Byron's Hyde Cleaner and scrubbing with a soft bristle brush. I then wipe away the dirt with a clean, nonabrasive rag. Afterwards, I apply a generous amount of Byron's Hyde Food to a new rag and carefully rub it into the leather's surface.
The results are instant. Not only does the leather look much better, but it feels softer and even smells fresh too. Best of all, the sprays' natural ingredients create a barrier against premature aging and harmful contaminants.
I recommend that my customers have the service performed once every three months. I usually charge between $75 to $100 for the first cleaning, and $25 to $50 for subsequent appointments.
Getting Started is Simple
Adding leather-care to your shop's long list of services is easy. It doesn't take long to learn how to do and can be promoted with a bit of creative marketing.
When discussing the new service with customers, remind them of the old adage: "An ounce of prevention is worth a pound of cure." It can also help to show them an old, tarnished piece of leather so that they can properly gauge what you're talking about.
Hang signs around your shop to inform customers that you now clean and condition leather, and update your website and Facebook page to reflect it as well. If you're really serious about pushing the service, consider offering one year of free leather conditioning with every cloth-to-leather upgrade. Or, sell yearlong protection plans in advance for a discount rate.
In the end, everyone wins. You get to offer a new service to customers and they get to enjoy their beautiful leather interiors for years to come.