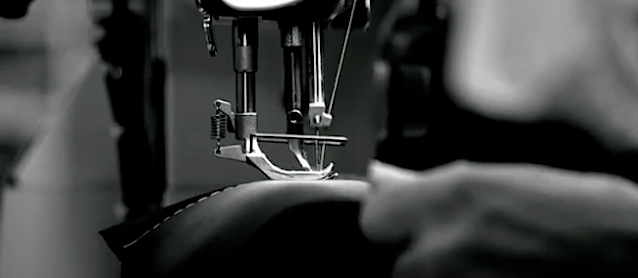 Check out Chevy's teaser video for the 2014 Corvette C7. Not only is it shot in an auto upholstery shop, but Chevy proudly proclaims to honor our craft.
The video, which is less than a minute long, shows Chevy auto trimmers hard at work – laying out a hide, cutting patterns and sewing at a machine. In the background, Car Interior Design Manager Ryan Vaughan says:
The exterior excites you. It draws you in. But the interior is where you actually experience the car from. It's literally the connection we have to the car, so it has to be perfect.
And then it comes – in big, bold, vindicating letters: "HONOR THE CRAFT".
Needless to say, I'm excited. Not just because automakers are starting to see car interiors as more than just an afterthought, but because Chevy isn't taking the cheap, gimmicky way out.
While other automakers are busy trying to associate their interiors with celebrity fashion designers, Chevy is paying homage to the real men and women whose skills, experiences and artistry have kept the craft of auto upholstery alive for so long.
http://youtu.be/aR5a_N0LQu0
Thank you Chevy.