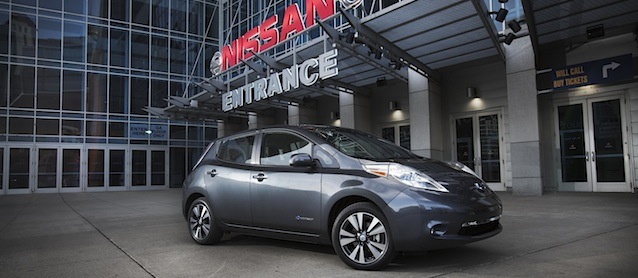 The all-electric Nissan Leaf already features upholstery made from recycled water bottles. Now its seats, door panels, headrests and center armrest will be trimmed in ECO CIRCLE Plantfiber – a new fabric partially derived from sugarcane.
According to Specialty Fabrics Review, the new fabric was engineered by Teijin Ltd and chosen by Nissan for its environmental benefits:
More than 30 percent of Plantfiber's composition is made with biofuels derived from sugarcane. Teijin's bio-polyester fiber conserves fossil resources and lowers greenhouse gas emissions due to its carbon neutral effects, yet still offers the same characteristics and quality of oil-derived polyester. [more]
While the Leaf will be the first mass-produced vehicle to be trimmed in ECO CIRCLE Plantfiber, it's certainly not the first to feature a sugarcane derivative. Toyota has utilized similar materials in the past.
Still, it's interesting to see the lengths that automakers will go to compete "green" – especially in the cabin. Skim through The Hog Ring's "green upholstery" section and you'll see that they're experimenting with everything from ground up cow carcasses to shredded dollar bills.
What will they think of next?