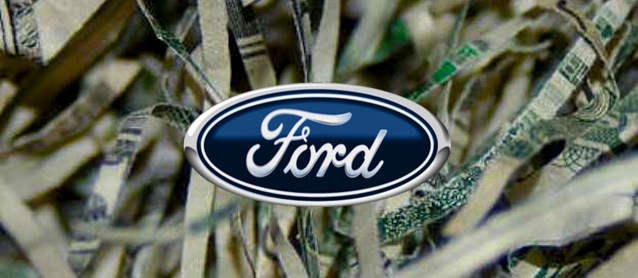 Ford Motor Company may soon produce a car that's more bourgie than a Bentley, but costs thousands of dollars less. How is this possible? The rumor is that Ford is experimenting with ways in which to recycle millions of dollars in shredded and discarded U.S. currency into interior parts.
The Washington Examiner explains:
John Viera, Ford's global director of Sustainability and Vehicle Environmental Matters, plans to test for uses of the 3.6 million pounds of shredded money the Feds burn or dump into landfills every year. … The goal is to shift away from every-pricey petroleum products. Each car has about 300 pounds of plastics in them.
"The potential to reuse some of the country's paper currency once it has been taken out of circulation is a great example of the kind of research we are doing," said Viera. [more]
According to The Examiner, Ford is eyeing the money to use in plastic applications like storage bins and interior trays. Ford is already making interior parts out of recycled denim jeans, water bottles, dandelions and other plants.
But Ford isn't the only automaker experimenting with obscure materials. Hyundai is using volcanic rock and Toyota is using sugarcane. The University of Alberta is even developing ways to use ground up cow carcasses in vehicle interiors.
The list keeps getting weirder and weirder. Still, I don't think anything beats cruising around in a car made of dollar bills.