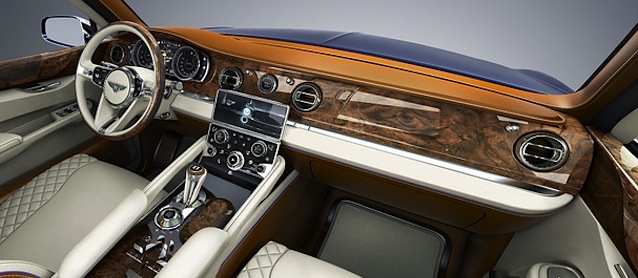 There's nothing strange about trimming vehicle cabins in wood veneer – it's been done for years. But how about using reclaimed wood from old logs and fence posts to do it? As odd as that might sound, it's exactly what some car companies are doing.
USA Today explains that it's all part of automakers' bid to appeal to eco-friendly drivers:
Instead of searching the world for exotic woods, long a mark of elegance in premium brands, some are turning to suppliers who dredge rivers for old logs and use fast-growing woods such as bamboo or eucalyptus to create the wood trim pieces that surround drivers and passengers in luxury cars.
The move avoids criticism for automakers that while their new fuel-saving engines are cutting carbon emissions, their choices of interior trim could destroy endangered old-growth forests. The trend is especially seen in cars billed as eco-friendly, such as hybrids or electrics.
Sure, the total amount of veneer in a typical luxury car is less than on an old dining-room chair, so the effort is mostly symbolic. But it's good business: Sustainable wood trim adds another little feature to make buyers feel good about their purchase. [more]
So which automakers are trimming cars in "sustainable" wood ? According to the article, Lexus is utilizing bamboo veneers, Fisker is repurposing wood logs found at the bottom of Lake Michigan and trees burned in California wildfires and – of course – rough/tough Ram is the company using old fence posts.
While I've yet to hear of a company that sells aftermarket veneers made from reclaimed wood, it's only a matter of time.