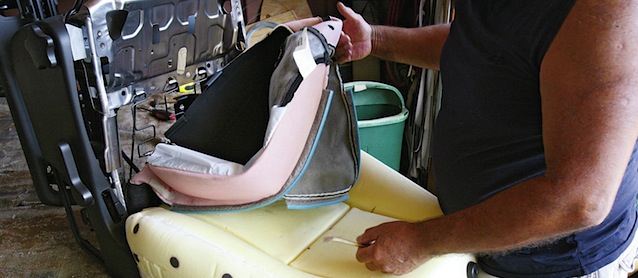 Speaking of leather seats, Restyling magazine recently asked reps from the four biggest seat-cover manufacturers – Katzkin, Roadwire, Alea and Pecca – to share their thoughts on the growing market for leather-interior conversion kits.
While their answers don't directly pertain to most shops' day-to-day operations, they do provide some insight into the future of our industry. As Naseem pointed out two days ago, companies like Katzkin are beefing up their infrastructure to prepare for increased demand.
Demand for what exactly? Restyling notes that in addition to leather seat covers, customers are also eying steering-wheel covers, shift boots, E-brake handles, consoles, door panels and seat heaters in record numbers.
Indeed, what's good news for these manufacturers is also good news for us – as they either don't sell direct to customers or need us to do the installations. And, since we know who's mostly making these sales… ehem… car dealers… perhaps it's a good idea to start marketing our services and developing working relationships with them.
That is, of course, if you aren't already.
For more information, read "Leather Bound" by Restyling magazine.