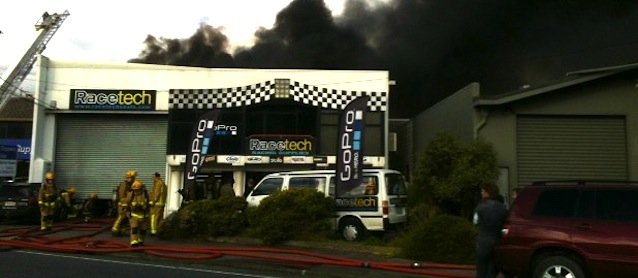 Racetech, New Zealand's premier race-car seat manufacturer and auto upholstery shop, suffered a devastating fire this week in which a fireman suffered serious burns to his back and arms.
Radio New Zealand reports:
More than a dozen fire engines and over 60 firefighters attended the fire which is believed to have started in the back room of a building owned by auto upholstery company Racetech. […]
At the height of the blaze, plumes of smoke scattered the city and the Fire Service advised people to stay indoors due to possible toxic chemicals in the fumes. [more]
According to a video news report by local 3 News, the blaze started in a fiberglass workshop in Racetech's facility.
The injured firefighter, whose name has not yet been released, is reportedly in stable condition. None of Racetech's employees were hurt in the fire.
Protect Your Shop
Our thoughts and prayers go out to all those left affected by this disaster, especially the injured firefighter.
Situations like this are always tough. As shop owners, we take steps to fire-proof our businesses, but there's always a chance that one will break out. The glue, cleaners and other toxins we stock only add to the worry.
That is why it is absolutely necessary that we regularly review our insurance policies to make certain that they cover the value of our buildings, products, tools and customers' cars.
If you haven't already, read "Guarding Your Shop From Natural Disasters". It provides some helpful advice on how to limit your losses in the event of a fire.