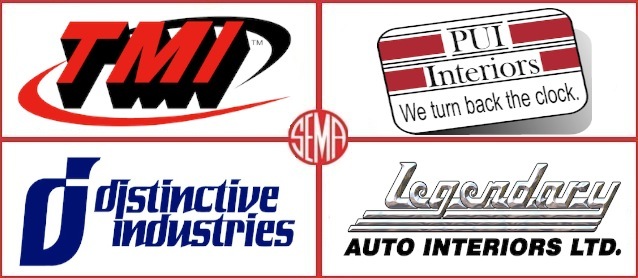 While exploring the Central Hall of the 2013 SEMA Show, I had the opportunity to speak with our industry's leading manufacturers of interior restoration parts, including TMI Products Inc, Legendary Auto Interiors LTD, PUI Interiors and Distinctive Industries.  While some companies choose to focus their displays on original restoration components, others showcased their custom interiors. Here's the scoop…
TMI Products put on a huge display with a significant number of new products for 2014. While the company is renown for its interior restoration components, it was obvious from the display that TMI is heading in a more custom direction. Tim King, the TMI's General Motors sales manager, showed me around the company's display and told me all about its new products.
For 2014, TMI has expanded its popular line of Sport Seats to include more vehicle applications and added the new Sport X and Sport XR packages, which have the same high-bolstered foam but with new innovative patterns for the upholstery.  Also offered are matching front/rear door panels and custom center consoles. The brand-new Pro Series line of complete direct bolt-in seats includes tracks, reclining frames, foam and upholstery debuted at SEMA; and will be available in the coming year. What's more, TMI now sells bow-style headliners in suede with matching sun visors and sail panels.
When I asked about TMI's most exciting new product for 2014, Tim said:
"This is our showcase right here. This is Sport XR for the 05-09 Mustangs. This is a really neat product. The reason for it is that it is a low back seat with an adjustable headrest from the factory. Basically we stripped the headrest so you slide our frame work into the base frame and then our foam goes over the entire thing. It gives you a Recaro style seat even though it's not. It gives you that real nice high back seat, but it doesn't give you the price tag with a Recaro."
The Sport XR was on display in the 2005 Ford Mustang that TMI brought along. Also on display was a 1967 Chevelle and 1970 Camaro, each wrapped in TMI's sport interiors.
When we first reported about TMI's Sport Seats, trimmers had mixed feelings about the embroidered TMI Products logo on the covers so I asked Tim about it. He replied:
"The point of the TMI on these ones is branding. So we're competing against Sparco, Corbeau, SCAT, Procar all those kinds of companies. It's us branding ourselves. They all do it but they'll do it in a contrast stitching right across the front of the seat. Ours matches the vinyl and it's only on the sides. So it's there but it's not in your face."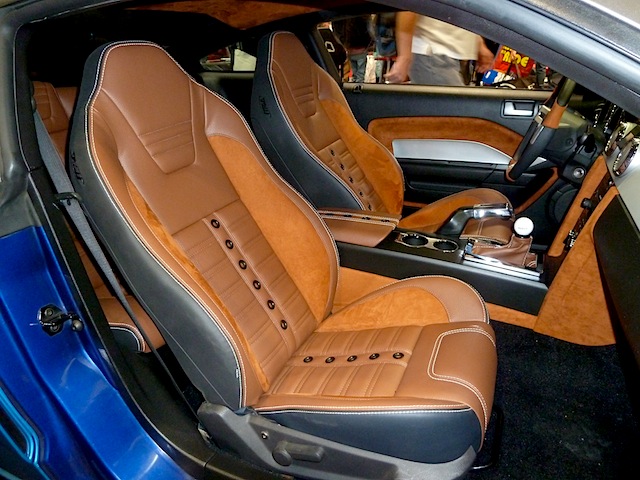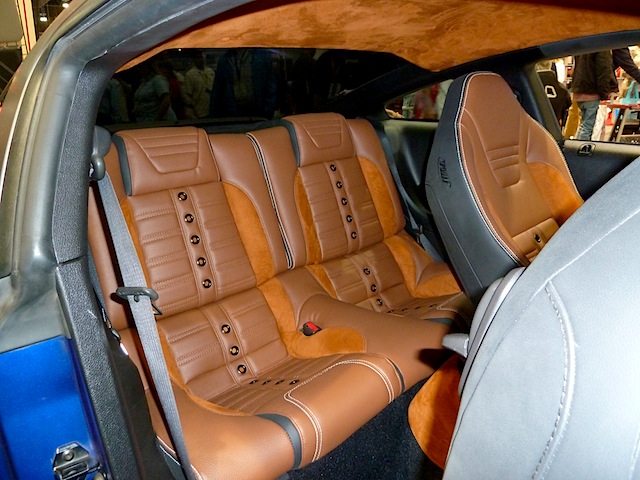 Only at SEMA would you have the opportunity to meet face-to-face with the owner of one of your company's suppliers and have him tell you what's new with his company for 2014. I did just that when I met Martin Beckenbach, owner of Legendary Auto Interiors.
Martin told me all about Legendary's Rally Seats, which are now available for General Motors A-body and Chrysler A- and B-body vehicles. Similar to TMI's Sport Seats, Legendary's Rally Seats are designed to mimic original upholstery, except for larger bolsters for a sportier look and feel.
Also new by Legendary is a complete full-interior package for F-body vehicles – which includes everything from carpet to door panels, seat upholstery, headliners and convertible tops for Camaros and Firebirds. Martin noted that his company's door panels for the 1970 to 1981 Camaro include upgraded uppers made from metal as opposed to the original plastic.
Martin was most excited about Legendary's recently revamped website, which now offers a Sample Request Center where you can quickly select all of the color and grain samples you'll need for your project before placing an order for upholstery. Customers usually receive samples with 2 to 7 days at no cost. Martin explained:
"It helps to ensure that the customer is getting what they want. So they know what they are ordering. So that they are confident with that. We don't have to deal with so many returns or issues or that kind of stuff. So it helps out all the way around. It helps the customer a lot too."
Also added to the website is a Custom Design Center, where you can completely design a seat with a multitude of options – including welt color, logo embossing, heat chrome inlaying, two toning any panels you choose and even screen printing. Martin described the process as painting done by CNC-controlled machines. Material can be painted with any color and design you choose and it's guaranteed for life. Martin said:
"It's probably the most innovative product on the market. Door panels we can do it on. We can do it on headliners, sun visors, all kinds of stuff."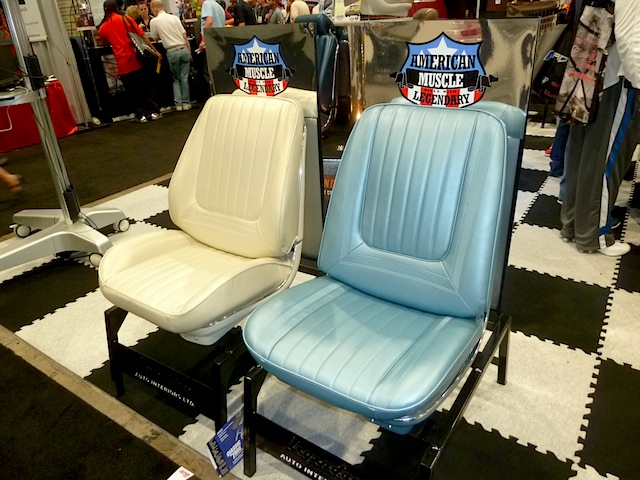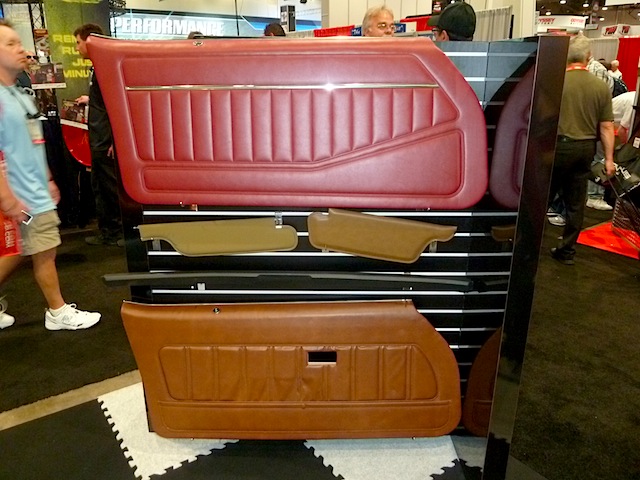 PUI Interiors and Distinctive Industries
PUI Interiors and Distinctive Industries, staples in our industry for automotive upholstery restoration, were also out in full force at SEMA. I had a chance to visit their booths as well, and was impressed with their displays.
PUI Interiors had a General Motors 1st generation F-body cockpit on display with both Camaro and Firebird upholstery. It also showed off its latest products: bucket seat upholstery for a 1965 Buick Wildcat, foam buns for 1972 Challenger and GM door pull straps.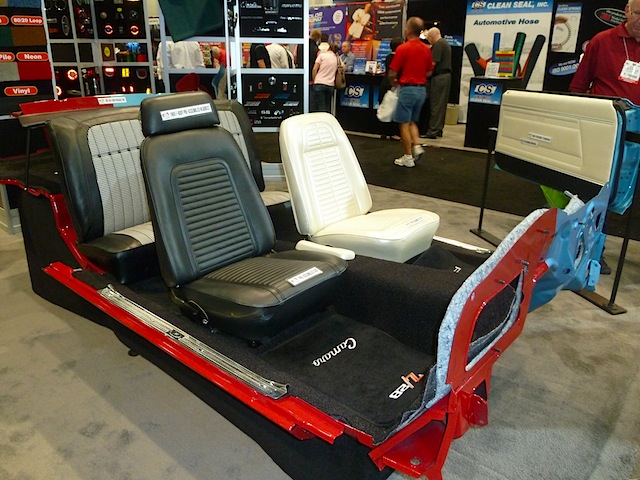 I spoke with Keith Roberts of Distinctive Industries about his company and was surprised to learn that it not only makes upholstery to original specifications, but can also customize any seat upholstery kit the way you like – including two toning, French seaming and swapping vinyl for leather.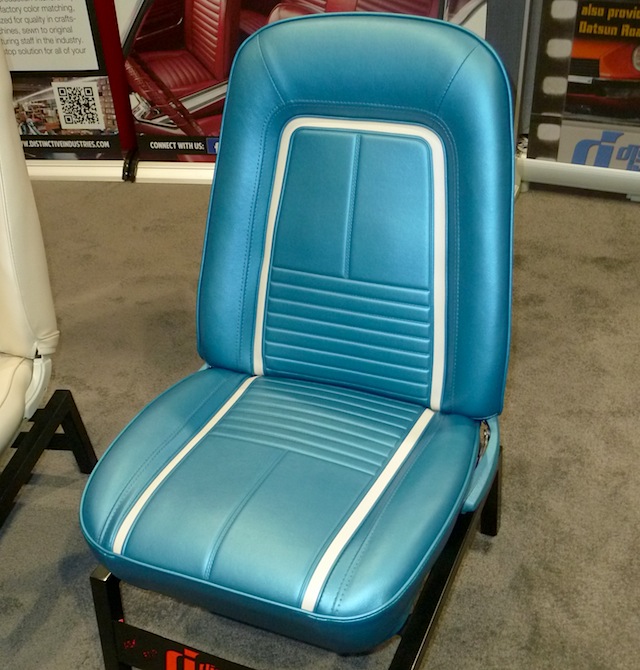 While at SEMA, I picked up all these companies' latest catalogs to keep handy at my shop for ordering.
For more of The Hog Ring's coverage from SEMA 2013, click here.