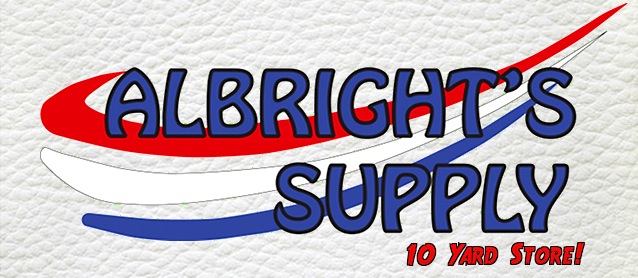 Interested in sales and promotions? How about one that lasts all year round? That's exactly what you'll find at the Albright's Supply "10 Yard Store."
Each month, Albright's Supply is granted unique access to tens of thousands of yards of discontinued, overrun and surplus material. The selection runs the gamut of cloth, vinyl, automotive, marine, upholstery, contract and clothing. They select the best based on what they think we're likely to use, cut them down into 10-yard rolls, and sell them at a discount.
Prices start at just $19.95 (free shipping), and no roll ever costs more than $79.99.
What's more, the selection changes regularly — so there are always new rolls of material to choose from. Albright's Supply currently carries over 70 patterns, and plans to increase that number to over one hundred by the spring. For free samples, send an email to sales@albrights.com.
To visit the Albright's Supply "10 Yard Store," go to www.the10ydstore.com.
Also, stay tuned to The Hog Ring for details on the upcoming Albright's Supply "open house," where they plan to sell popular fabrics for pennies on the dollar!