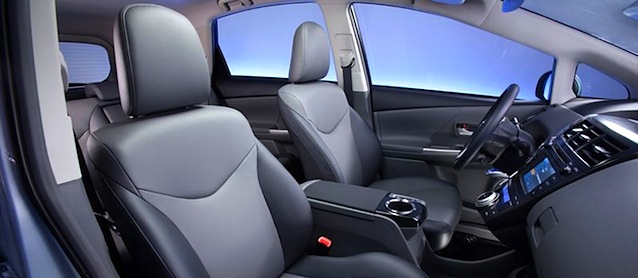 The Toyota Prius' interior is nothing to write home about – it's simple, bland and lacks any semblance of luxury. What's more, it might even cause you to break out in hives. At least that's what one man in Vorhees, NJ, alleges happened to him. He's suing the automaker because, as he tells it, the hybrid's interior is toxic.
The local Courier-Post reports:
Thomas Meyers has sued Toyota Motor Sales USA, claiming he suffered a "severe and painful" allergic reaction after driving his new Prius V in January 2012.
According to the suit, the injuries included a widespread rash and lesions "spreading to both elbows, knees, arms, legs, as well as torso area." Meyers also alleges that his lips and tongue swelled up, causing difficulties with breathing and swallowing, and that he had "orthopedic and neuorologic injuries."
The suit accuses Toyota of negligence, saying the attack was triggered by "exposure to the interior components of the automobile." Among other claims, it asserts that Toyota failed to design and manufacture the car properly and that it had an obligation to warn Meyers of the vehicle's "dangerous and defective characteristics." [more]
Of course, Toyota disputes his claim. But toxicology research centers say that such a reaction to a car's interior is entirely possible – especially given the amount of dangerous gasses emitted from plastics and chemicals used in the construction of cabins.
In fact, a 2012 report by The Ecology Center, a Michigan-based nonprofit that studies the toxicity levels of car interiors, found that the aroma of plastics, chemicals and glues – which often contribute to that coveted "new car smell" – is dangerous.
According to the Courier-Post, the Prius earned "good grades" in a February 2012 study by The Ecology Center – it ranked second best for its toxicity levels – but still carries harmful agents.
Meyers is seeking compensation for a long list of damages – including medical expenses, lost income, and pain and suffering. His wife is also seeking damages, citing her loss of "services, affection and consortium."
The lesson to be learned in all this – especially for auto trimmers who spend a lot of time in car interiors – is to be wary of the plastics, spray paints and adhesives we're exposed to on a regular basis. If your garage isn't well ventilated, make it so. And always wear an air-filtration mask when handling chemicals.