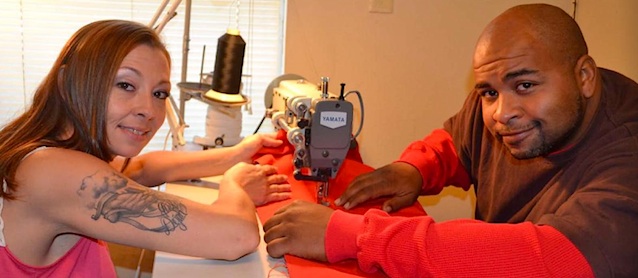 If you read one article today, make sure it's the inspirational story of how Justin and Siana Henzel of Destin, FL overcame the hardest of obstacles to open 4H-Customs Upholstery and provide for their four children.
In a profile by Destin Life magazine, the husband and wife team explain how they wouldn't let a lay off, low funds or even a devastating car accident stop them from achieving their dreams.
Recounts Justin, "My family has been doing custom upholstery work for more than 70 years, with those skills being passed down from my great, great uncle, eventually taught to me after my mother died when I was a kid." Justin has been sewing upholstery since he was 15 years old and has restored Model T's, a '57 Chevy, old Impalas, motor homes and pontoon boats.
"After I got laid off from the restaurant, things started to become desperate as I got down to my last $500. Knowing I had these skills, I prayed a lot and decided to step out on faith," said Justin. "I took $300 of my last money and found a professional sewing machine, working until 3 a.m. we started our business, literally in our kitchen." […]
Just when things were starting to look bright, however, fate stepped in to brutally test their faith and belief in their dream.
"Shortly after we got that first gig I was hit by a drunk driver and ended up with my back broken in three places and a fractured neck," said Justin.
"Despite being bedridden and in a great deal of pain, I was compelled to find a way to keep going in order to provide for the people I love," said Justin.
"So, within a couple weeks, I found the strength to fight through it and get the work done. I thank God for Siana. She was my rock, stepping in during the darkest hour to help move us forward in every area including mastering upholstery tailoring skills," he said.
Four years after being laid off, Justin and Siana now own and operate the Emerald Coast's premier upholstery shop, specializing in cars, boats, planes and more. They're even giving back to the community that supported them through the hard times – sponsoring charities and fundraisers throughout Destin.
On a personal note, we couldn't be happier for Justin and Siana. We've been following the success of 4H-Customs on Twitter and Facebook since 2012, and have always been left inspired by their dedication, hard work and excellent craftsmanship. Without a doubt, they embody everything that makes this industry so great.
To read Destin Life's full profile of Justin and Siana Henzel, click here and flip to page 18.
(Photo cred: T. Lavon Lawrence)