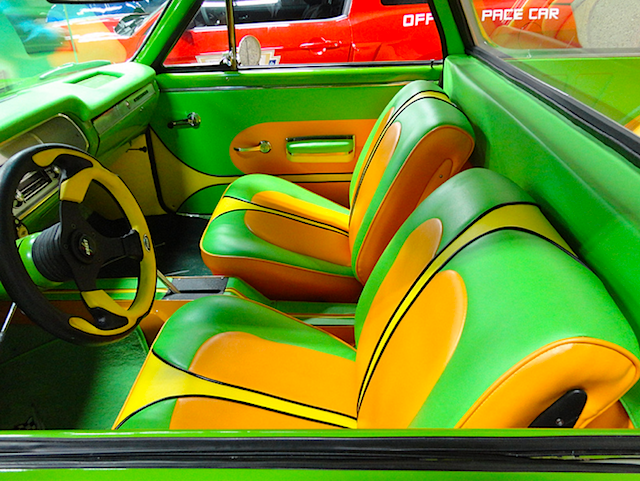 Love it or hate it, this custom 1964 Chevrolet El Camino interior sure is eye catching. While you may have to wear sunglasses to pick out the details, pay close attention to the sparse use of the color black throughout the cabin — which was skillfully employed to make it look animated.
Similar to how cartoonists use thick black felt-tipped markers to highlight distinctions between light shades, the shop that upholstered this interior used black piping, trim and even a two-tone steering wheel to do the same. Not too much though, or gazers would be distracted by an abundance of outlines.
The result is an interior that looks more at home on the pages of a Dick Tracy comic strip than a car-show parking lot, and is altogether unique. Had the trimmer stuck to just bright shades of yellow and green, I don't think the cabin would be nearly as interesting or – dare I say – even good looking.
To see more photos of this custom El Camino, including exterior shots, click here. If you know the auto upholstery shop that designed and trimmed this interior, let us know so we can give props where they're due.
Otherwise, tell us what you think of this cartoonish looking cabin in the comments section below.