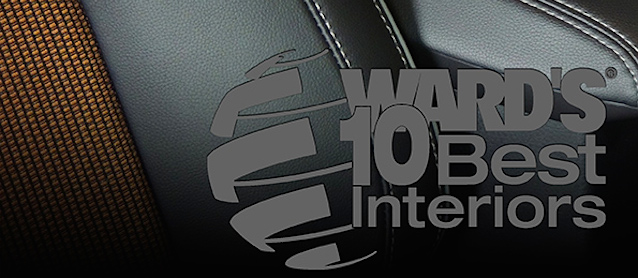 What do the Kia Soul and Rolls-Royce Wraith have in common? Not much… except they both just made WardsAuto's list of the 10 best new OEM car interiors. In fact, this year's list of honorees represents WardsAuto's most diverse list yet.
 In a press release, WardsAuto explains:
Massaging seats, bold new applications of ambient lighting, a key that can't be locked in the trunk and a headliner that mimics a starry sky are among the technologies showcased in the 2014 Ward's 10 Best Interiors winners.
The honorees represent a broad swath of cars and utility vehicles available in the U.S. with advanced human-machine interfaces, high-quality materials, outstanding comfort and, in some cases, breathtaking aesthetics and limited self-driving capabilities. [more]
The 10 winners — listed below in alphabetical order — were selected from a pool of 41 vehicles driven by WardsAuto editors who scored and ranked them based on ergonomics, driver information, fit-and-finish, materials, value, safety, comfort and design harmony.
2014 Chevrolet Corvette Stingray
2015 Chrysler 200C
2014 GMC Sierra Denali
2014 Hyundai Equus Ultimate
2014 Jeep Cherokee Limited
2014 Kia Soul+
2014 Mazda3
2014 Mercedes-Benz S550
2014 Rolls-Royce Wraith
2015 Volkswagen GTI
The winners will be honored at next month's WardsAuto Interiors Conference in Dearborn, Mich. For interior photos, as well as a detailed explanation of why WardsAuto selected these 10 models, see the "Ward's 10 Best Interiors" web page.
Thoughts? Did any cars make the list that shouldn't? What would you add or subtract from it? Tell us in the comments section below.