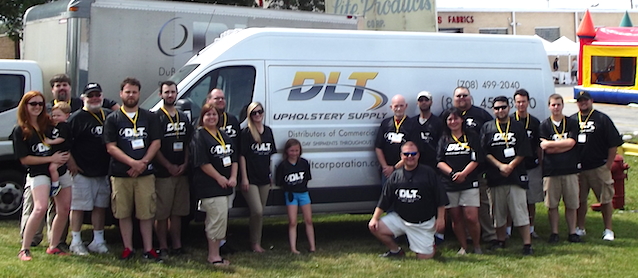 The July issue of DLT Upholstery Supply's "Upholstery & Trim News" is not to be missed. It features new sales, promotions and services that every auto trimmer will want to take advantage of.
The newsletter kicks off with a note celebrating the 50-year anniversary of Kee Auto Top, another one of The Hog Ring's amazing sponsors. DLT, which carries Kee tops, both in stock and special order, explains why they stand behind Kee's products:
Kee Auto Top's top experts are available by phone every day to assist professional installers with any questions that they may encounter, a technical support level Kee is rightly proud of. Kee can offer real help to seasoned pros, because their R&D department has hands-on experience with countless convertible top and vinyl roof installations. This also means that patterns and tops are constantly being scrutinized by in-house installation experts. Kee Auto Top manufactures exceptional quality tops which are authentic and factory-correct for cars of most every vintage, utilizing the finest materials available anywhere.
Other great products DLT is promoting this month include C.S. Osborne's #600 and #602 Staple Pulling Pliers — which proved real popular at last month's "Open House" event.
Unlike the popular #120.5, these are safer for the wood, and less likely to stab you if you pick them up wrong.
Made of forged steel with vinyl handles for grip and comfort, the #600 is a springless plier, staying open or closed as needed. The nose of the plier is angled to slide under the staple, and then rock back (or yank up) to remove the staple.
The companion piece is the #602 Staple Puller. Osbourne fans will see the resemblance between the #602 and the #601 Antique Nail Puller, and then notice the changes in design. The #602 is made of forged steel with a classic blued finish. The vinyl handles, like on the #600, promote grip. The #602 features an opening spring, keeping the jaws positioned to form a tripod once it is set down. The welded, rubber covered, pin provides a non-slip leverage point that won't damage the furniture as you pull the staple out.
Check out this month's newsletter for pricing and photos of how these high-quality staple pullers work.
That's not all! DLT Upholstery Supply just unveiled two new programs — one to allow trim shops to place orders by text and the other to promote our best work. Check out the details below: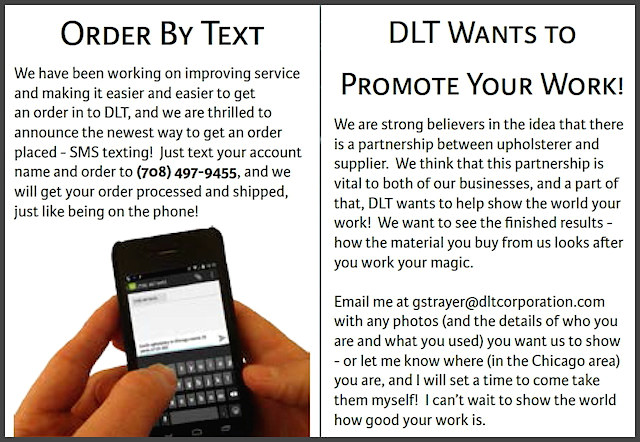 Download a free copy of "Upholstery & Trim News" to learn about more sales and promotions by clicking here. Don't forget to check out our article "How to Turn an Indecisive Shopper into a Customer" on the back cover!
To set up a business account with DLT Upholstery Supply, visit them on the web or give them a ring at (800) 458-3500.