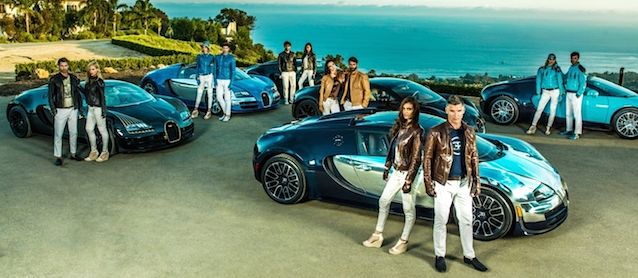 If driving a Bugatti wasn't pretentious enough, the super-luxury automaker just rolled out a clothing line manufactured from the same fabrics and materials it uses to trim its vehicle interiors.
The Car Guide explains:
So in an effort to help their customers look their best when cruising in their multi-million dollar supercar, the manufacturer just launched a whole line of clothing matched to their Legendes de Bugatti Veyron Grand Sport Vitesse. Each set is available for both genders.
The Jean-Pierre Wimille edition features a bright blue leather jacket which goes really well with the car's bodywork. The kit also features a t-shirt, blue leather gloves and a Bugatti belt buckle.
For the Ettore Bugatti version, the stylists chose a brown leather jacket made of the same material as the car's interior. There is also a unique golden Bugatti belt buckle included in the deal.
The clothes associated with Black Bess are obviously black, and the men's t-shirt features yellow lines, just like the car's front fenders. [more]
While I'm not opposed to Bugatti brand clothes, I can't wrap my head around why anyone would want to match their seat covers. Then again, I've never owned a million dollar car…
Until I can afford one, rest assure that I'll avoid dressing like my Mitsubishi Galant.