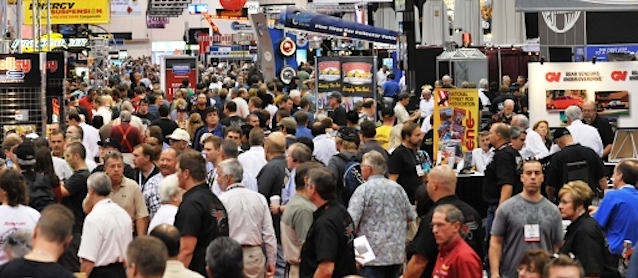 With the 2014 SEMA Show less than two months away, Performance & Hotrod Business magazine has published a timely article titled "Industry trade shows — are they worthwhile or a waste?" The piece provides great insight on why you should consider attending trade shows, as well as advice on how to maximize the opportunities they offer.
Here's a short excerpt from the article:
The first thing people ask when they hear I went to a trade show is, did I make any sales? No, not usually. Does it make me money by going to the show? Yes, eventually.
So how does that work?
For the shop owner attending an industry trade show, it's not about making sales. It's about making connections, networking, extending your reach, staying on the cutting-edge of what's next, what people will be wanting from your shop, and learning from the many different kinds of seminars that are offered at these shows.
Think of trade shows as a place to get a ton of information in a very short amount of time. And then there's the advantage of putting a face on the products you buy. Many of the companies you deal with will be at these shows. You meet the actual people behind those products, which can be helpful in many ways.
Included with the article is a "Survival Guide" and "What to Bring to the Show" checklist. It's definitely a must-read for anyone attending a trade show for the first time.
To read the full article, check out the October 2014 issue of Performance & Hotrod Business magazine, which you can read online for free by clicking here. The article is on page 83.