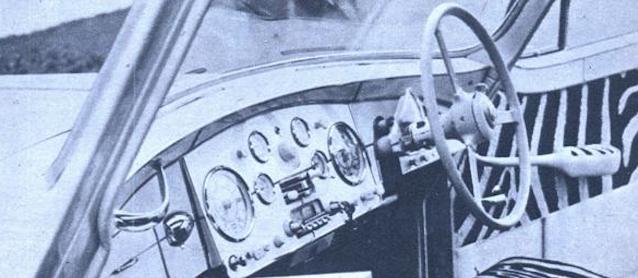 Speaking of super luxury car interiors, check out this 1955 Daimler DK400 coupé featured in the August 1956 issue of Popular Science magazine.
This one-off show car belonged to Norah Lady Collins, an English socialite who married Sir Bernard Docker, chairman of The Daimler Motor Company Limited. Lady Docker, as she was known, had a taste for the finer things in life — especially automobiles. So when it came time to pick a car out for herself, she went all out and got it bespoke.
Popular Science explains:
As for the Daimler's details—it has an aluminum alloy body and all metal work is gold-plated. The 6-cylinder engine has 167 hp. Roof panel and windshield are of heat-reflecting glass, upholstery is natural zebra hide, carpeting is unnatural nylon fur. Indirect lighting enhances the impression that you're in a naughty French comedy. All in all, about the lushest piece of transportation since Cleopatra's Barge—or until Lady Nora designs herself another car plated with platinum.
At the time of commission, the "Golden Zebra" DK400 cost the Dockers $50,000. That's roughly the equivalent of $445,000 today — which, of course, is still cheaper than this year's base-model Rolls-Royce Phantom, let alone the "Phantom Metropolitan Collection."
Still, it's interesting to see what that much money bought nearly 60 years ago, as well as what super luxury car interiors looked like back then as opposed to today.
For a closer look, check out the following spread in Popular Science:
For more interesting articles about auto upholstery's past, check out our "Industry History" section.
[via Modern Mechanix]