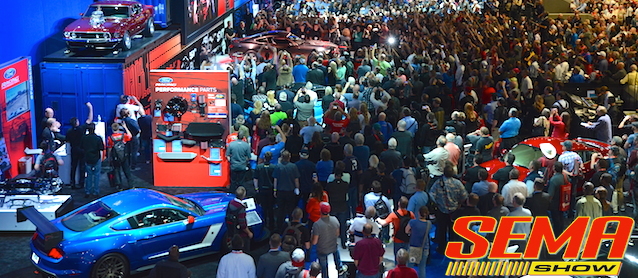 The 2014 SEMA Show continues to be a blast, with seemingly infinite networking opportunities and loads of new developments in the sector of car interiors to report on — which we'll be doing in a series of articles we're rolling out over the next few weeks.
Our only complaint? There isn't enough time to see and do everything. It's inspiring and daunting all at once. A show this large definitely needs to last longer than four days.
On Wednesday we conducted a really interesting interview with a representative of TMI Products, who told us all about the company's new offerings, as well as the interesting new direction they're headed in. We also sat in for Mobile Solutions' training seminar on dashboard-tablet integration, picked up a slew of information on new products, and checked out the interiors of hundreds of custom rides on display in SEMA's outdoor car show.
Of course, we also stopped by industry booths throughout the convention hall to introduce ourselves and tell folks about The Hog Ring. Many said they already knew and read the site regularly, which was exciting to hear!
Our day ended with a chance encounter with Billy Gibbons of ZZ Top, which – for two rockers – was definitely a sweet surprise!
To keep up with The Hog Ring on the convention floor, follow us on Instagram @TheHogRing.
If you're at the show and want to meet up, drop us at note at info@thehogring.com.
Below are some photos from today's event: