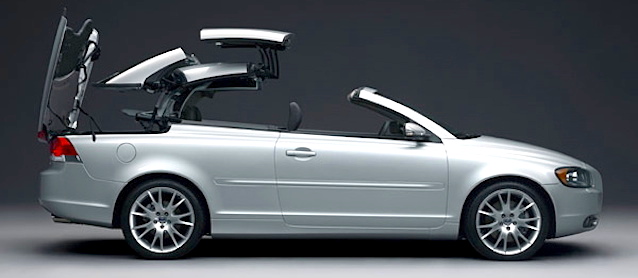 We've written extensively about America's waning interest in convertible tops — a trend that doesn't appear to be reversing any time soon. But as automakers manufacture less and less convertible models, there does appear to be a bit of good news: The fad of hardtop convertibles is quickly dying, making way for a resurgence of soft-top convertibles.
In a recent article, The Washington Post explains:
Two of the three major suppliers of convertible roof systems, Webasto, Magna CTS, and Valmet, have either announced plans to slim down their operations or already done so, due to a drop in demand. […]
Why? Soft tops have become much better, and with superior body engineering and rigidity there aren't the body-integrity issues that many uni-body convertibles used to have. And there's no way around the price advantages; soft tops are generally cheaper to source, install, and replace.
Of course, that's great news for manufacturers and suppliers that sell convertible tops and auto upholsterers who install them. But it's just one aspect of a much larger trend that doesn't look promising at all.
There's plenty of evidence that convertibles in general are in a prolonged market slump. Formerly hot-selling models like the Toyota Solara Convertible and Chrysler 200 Convertible (another one that was offered with a retractable hardtop) have been discontinued, with no high-volume replacements in the works. Volvo has even decided to put convertibles on the back burner for a few years, as it completely updates its model lines of sedans and crossovers.
And there definitely are some signs here in the U.S. that the image-conscious are passing up convertibles in favor of electric cars, or some of the new, standout crossover vehicle designs. […]
Perhaps the bigger questions rest upon looking at the worldwide demand for convertibles—which, apparently, isn't exactly burgeoning. In several key global markets in which the demand for luxury and sports-car models is broadening—China and India—there's no correspondingly high spike in demand for convertibles.
To read the full article in The Washington Post, see "Hardtop Convertibles Dwindling: Are They a Passing Fad?"
Tell Us: Has your auto upholstery shop experienced a noticeable decline in convertible top sales and installations? And if so, what are you doing to make up for the loss in profit?