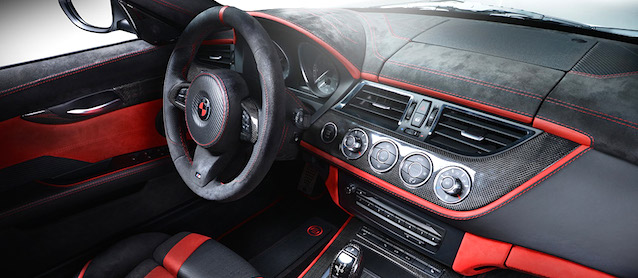 In need of some Monday morning inspiration? Watch this video by Polish auto upholstery shop Carlex Design to see them take an ordinary BMW Z4 and transform its cabin into a work of art. They call it the Z4 Red Carbonic.
Carlex Design explains:
When the BMW Z4 arrived at our studio, there was only one assumption— We decided to go into a sporty style with carbon and Alcantara. So, we created a project with lots of Alcantara and leather in carbon optic.
Then, our project team took the first sketches highlighting the aggressive lines of the Z4. They have created a unique design, a combination of lines, textures and contrasts between black and red color. Both, the exterior and interior design created by Carlex Design complement each other, where the deep purring sound of the BMW's engine gives a thrilling pleasure, sending chills down the spine! There we go! The interior has become another provocative element to drive the car faster and faster.
In true Carlex fashion, the video also features an epic musical score…