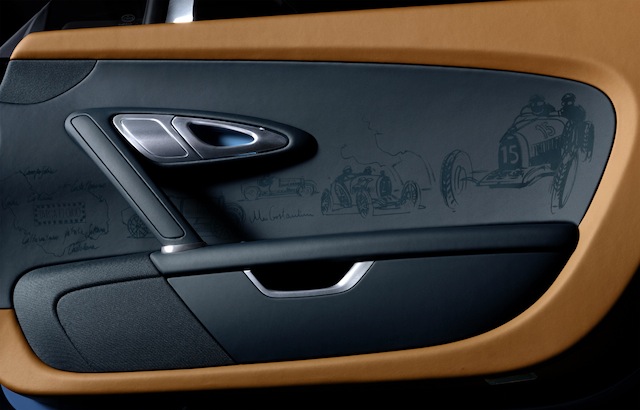 Check out the door panels in the Bugatti Veyron Meo Costantini — which, of course, was built in honor of the legendary 1920s car racer who bore the same name.
The graphics, which are laser-engraved into the panel's leather trim, "illustrate the most glorious moments of Costantini's racing career and the exciting world of motor racing in the 1920s," Bugatti explains.
The limited-edition Veyron is part of a six-vehicle series called "Les Légendes de Bugatti," which pays tribute to legendary figures from its automotive history. Costantini was the head of Bugatti's racing team for eight years, winning numerous titles for the company that helped propel it to worldwide fame.
Other vehicles in the series include the "Rembrandt Bugatti," which features hand-braided leather door panel inserts, and "Black Bess," renown for the hand-painted portraits that adorn its cabin.
To read more about the Bugatti Veyron Meo Costantini and see photos, visit Bugatti.com.