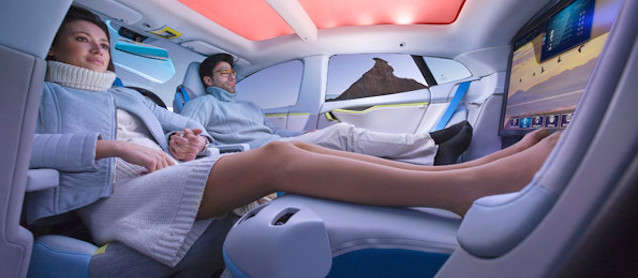 As a website focused on auto upholstery, it's no surprise that we've been closely monitoring the development of interiors for autonomous cars. However, when larger, more mainstream publications start to take notice of how vehicle cabins are changing due to the technology, you know the industry chatter is on the verge of becoming reality. Case in point: The New York Times just published an article titled: "Automakers Rethink Seats for Self-Driving Cars."
While the article doesn't shed new light on the interior designs being considered by automakers (at least not to us), it does bring them into focus for the general public. The piece touches on the inspiration, benefits and challenges behind the cabins of Mercedes-Benz's F015 Luxury in Motion, Johnson Controls' Innovation Demonstrator "ID15", and Rinspeed's XchangE — all autonomous cars we've previously covered.
The article even quotes a "self-driving car stylist" – who knew that position even exists? – who had some interesting things to say.
The fact is, self-driving cars are no longer a pipe dream — and we need to start preparing ourselves for how they may affect our craft. If automakers and tech companies have their way, the technology could hit dealer lots by 2020.
To read the full article in The New York Times, click here.