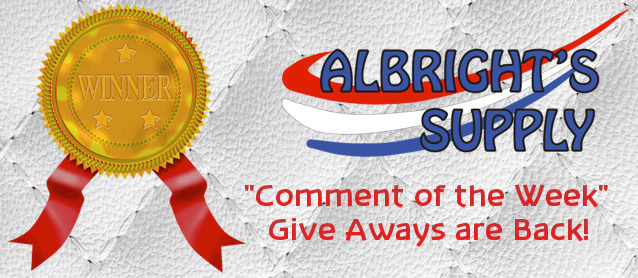 Congratulations to Peter Pittel of Back To The Future Upholstery in Brandon, Minnesota. Not only does he have one of the coolest shop names we've ever heard, but he won The Hog Ring's contest for "Comment of the Week." Peter, who goes by the screen name "Whiskey Pete," takes home this week's prize: A C.S. Osborne forged steel staple puller and 10 yards of bright white smooth-grain vinyl courtesy of Albright's Supply.
Trimmers from all over the word left helpful and insightful comments on our news articles and forum threads this week. However, we chose Peter for starting an interesting conversation in our Auto Upholstery Forum about how to handle customers who don't give many details about a project, but still want an estimate.
His forum thread, appropriately titled "Guestimate," reads:
It's happened again. A customer calls wanting a price to upholster part of his 40 Ford. He has his wife call and ask for a guestimate. She tells me they have the door panels but they need to be covered. The seats are black bucket, the dash is red. So I ask what they are looking for, flat panels or more custom. Then she informs me they want the trunk panels made. I suggest they stop by so we can discuss the options. She tells me they guy close to them quoted $600 complete, but he can't get to it because he is to backed up. Now fist off I think he is low on price and second I have no idea what he is bidding for. How do you handle these kind of people?
Peter's frustration with guestimates is one we all share. However, instead of keeping it to himself, he wrote about it in our forum and asked for feedback from fellow trimmers — which he received. That's exactly what The Hog Ring is all about: sharing experiences and learning from one another.
Thanks Peter for initiating a fantastic conversation in our forum. We'd also like to thank Jim LaPore and Roy Powell for their helpful and insightful feedback on the thread. By participating in the forum, you guys are helping to make The Hog Ring a valuable resource for the entire auto upholstery community.
Last, but certainly not least, thank you Albright's Supply for sponsoring this week's contest.
Specializing in automotive and marine trim, Albright's Supply has one of the largest inventories in the United States and a network that extends throughout the country. They're known and trusted throughout the upholstery industry for providing outstanding value and superior customer service. In fact, Albright's Supply will often go out of their way to find customers trim products they don't carry, and even provide free shipping on all orders of $150 or more.
To learn more about Albright's Supply, visit AlbrightsSupply.com or call (662) 287-1451. Also, keep your eyes on The Hog Ring, where we frequently feature their latest sales and promotions.