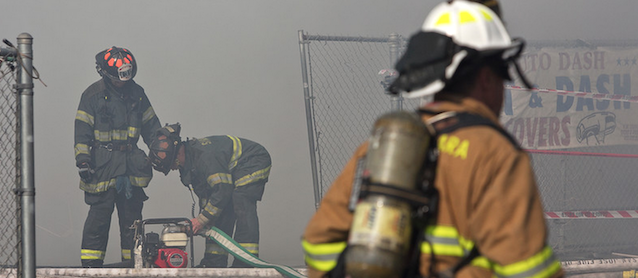 K's Auto Seat & Dash Cover of San Jose, California, was destroyed on Saturday in a five-alarm fire that also gutted a car audio shop and ravaged a valuable collection of classic cars.
More than 100 firefighters from seven agencies were called up to battle the blaze. Though no one was hurt, nearby homes and businesses were evacuated due to heavy, possibly toxic smoke emanating from burning automotive carpets and other fabrics.
Reporting from the scene, the San Jose Mercury News wrote:
Authorities say a worker at Alpha Sound USA, one of the businesses destroyed, showed up to work and smelled smoke. He saw no fire but called 911.
Within 15 minutes, the building was engulfed in flames, said San Jose fire Capt. Fernando Munoz. A steady stream of smoke billowed from the site for more than two hours before firefighters got the upper hand.
"It's a metal building with a large fire," Munoz said. "It turns into an oven and the fire has nowhere to go but to just build up and up."
A short time before the fire was discovered, another tenant of the industrial complex saw no signs of fire, an indication of how quickly the fire started and gained momentum. An adjacent business that specialized in custom auto upholstery was also destroyed, as were an RV and living quarters for security staff. […]
The owner of Alpha Sound USA, which specializes in high-end car audio-video and security systems, stood by as he watched more than $1 million in inventory turn to ashes.
But more painful to Refugio Flores was the loss of a half-dozen restored classic cars – including two 1960s-era Chevelles and a rare 1970 Monte Carlo – that he stored there.
"I put my life savings into that. There's my retirement, up in smoke," said Flores, who has operated the shop for 12 years. [read more]
Authorities have not yet determined the cause of the fire, but are investigating. To see a video of the devastation, visit KRON 4 News.
Sadly, in this industry — where keeping flammable chemicals and materials in inventory is necessary — fire is always a risk. However, you can limit the danger and damages by storing combustible items properly, ensuring that your building is up to code and never allowing your insurance policy to lapse.
For more tips, read "Guarding Your Shop From Natural Disasters." It provides some helpful advice on how to limit your losses in the event of a fire.
To K's Auto Seat & Dash Cover and Alpha Sound USA, we're rooting for you to come back bigger and stronger than ever!