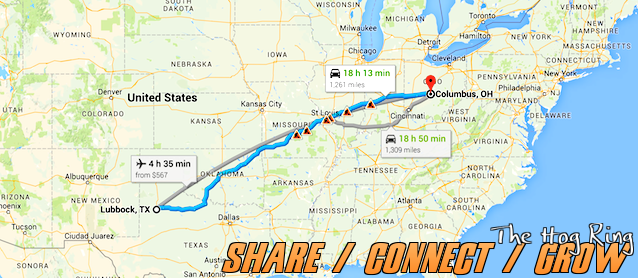 Bob Johnson of United Prez, LLC in Columbus, Ohio, recently emailed us to express gratitude for the help he received from fellow trimmer Marc Fisher of Auto Trim by Fisher in Lubbock, Texas. Though over 1,000 miles apart, the trimmers connected on The Hog Ring.
With Bob's permission, we're publishing his email to tip our hats to Marc for being such an outstanding member of The Hog Ring community and say thank you to everyone who has helped make this website the invaluable resource it's become.
Bob wrote:
Today I went out to do a bid for a mall food court that had 78 6ft-long booths that need redoing. I'm not big on contract work, but this potential client sought me out, so I wanted to oblige him with an accurate/competitive bid. So I began to do some searches on The Hog Ring and found a thread that Marc Fisher wrote in.
He seemed like a good candidate for answering my questions about how to bid for this job. So I went to his website and got his phone number. I called him up and his son answered, I told his son what I stated above plus that I found him on The Hog Ring. He then gave me his dad's cell number, so I called Marc (super nice guy). I then again explained my reason for calling, and with no hesitation he began to give me the information I was looking for, and gave me very good feedback not only on how to charge for the job, but how to run the job (this is a night time job only).
Upholstery is a small community as most of you know, and without the help of The Hog Ring and those who contribute to it, it would have been very difficult for my business to get up and running properly. Since the start up of my company I have used The Hog Ring to help me decide on my machine, sewing table, pricing lists, suppliers and even basic tools for my shop like rulers and chalk. Basically without this forum, and the wealth of information/knowledge brought to this forum by all these trimmers, this last year would not have gone as smooth as it did.
Thank you Marc for being so gracious with your knowledge and expertise — from writing articles for The Hog Ring, to contributing to our Auto Upholstery Forum and even taking the time to answer other trimmer's phone calls, you embody the very best of our community.
The Hog Ring's mission has always been to connect shops and facilitate communication so that we could learn from one another and grow. Everyone who contributes to this website, no matter how small you think your contributions may be, help us achieve that goal. Thank you.