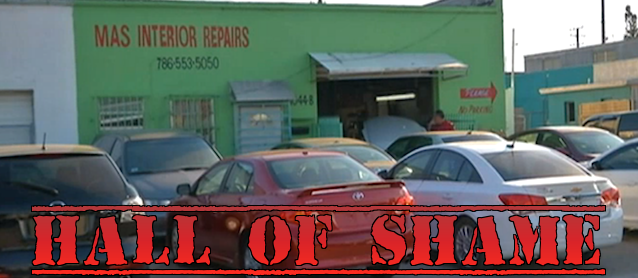 Aristides Santiesteban of Mas Interior Repairs in Hialeah, Florida, was charged last week with three felony counts of installing fake or junk-filled airbags — putting his customers' lives at risk and earning him permanent spot in The Hog Ring's "Hall of Shame."
According to a report by local news channel NBC 6 South Florida, a multi-agency investigation caught Aristides red handed in the airbag swapping scheme:
What began as a routine inspection at Mas Interior Repairs in Hialeah turned into a multi-agency investigation when Miami-Dade Police auto theft detectives say they found fake airbags inside several cars.
According to officials with the National Insurance Crime Bureau (NICB), the vehicles with the fake airbags were headed for local car dealerships where they could've been sold to unsuspecting customers. The authorities say the bogus airbags would have put drivers and their loved ones at risk of injury or death.
Miami-Dade's Office of Consumer Protection also assisted in the investigation. County Enforcement Supervisor Jorge Herrera says the vehicles were "repaired in such a way that you would never know that those airbags don't work." Tony Fernandez with the NICB says "if you get involved in a wreck, it's not going to deploy which means that the person driving the vehicle or the passenger could die." […]
Investigators say they have the evidence to prove he was swapping out airbags and sent us pictures showing piles of airbags inside the repair shop. [read more]
Aristides has denied the charges, but admits to running his auto upholstery shop without a license. He has since paid a $1,000 fine for the operating violation and awaits further legal action on the more serious felony charges.
Of course, as auto trimmers, we know why someone would get caught up in such a sleazy scheme. Stealing airbags and selling them on the blackmarket is big business. And installing fake ones, which of course customers can't check, can prove even more lucrative. But it's immoral, despicable and dangerous. And if you get caught doing it, you'll go to jail. Even worse, if someone dies because of a fake airbag you installed, you can be charged with murder.
Respect your customers, our craft and industry. Don't deal with folks who sell airbags on the blackmarket and report those who do.
To see a video report of this case, see NBC 6 South Florida.