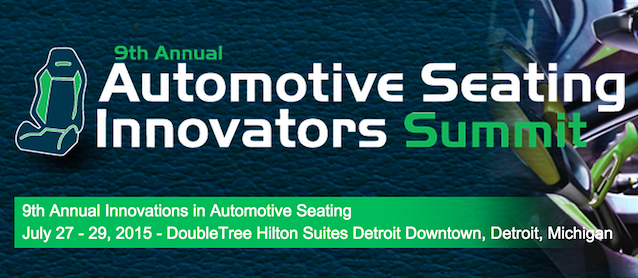 If you're interested in automotive seating, then don't miss the 9th Annual Automotive Seating Innovators Summit in Detroit, Michigan this month.
The event, which covers everything from frame technology to innovative materials, will feature a host of accomplished guest speakers from automakers to manufacturers, including Ford Motor Company, Nissan Motor Company, Johnson Controls Inc., Lear Corporation and even the U.S. military.
Workshops will cover a range of important subjects, including seating comfort, smart textiles and the impact of autonomous vehicles on seating design.
Event organizers describe the summit's scope as follows:
Seating has slowly been transformed through the years from a simple structure to a complicated technical masterpiece-fit to fill the desires of both the consumer and auto manufactures. When OEM and Tier 1 companies design the structure of the car, the seat is referred to as one of the heaviest and costly interior parts. While traditional designs have been favored throughout the industry, companies have started to construct new structures that will forever change automotive seating in more ways than one. Creating a lighter design while decreasing cost is a constant battle for auto manufacturers, and Tier 1 companies are experimenting with different designs and materials that will maintain safety but decrease cost.
While safety is the number one concern for OEM companies, that doesn't mean luxury design needs to take a backseat. Rising customer expectations to increase these designs has strengthened the urgency for OEM and Tier 1 companies to produce a seat that will create a more stress-free environment for their passengers.
Join us and take full advantage at the 9th Annual Automotive Seating Summit on July 27-29, 2015 in Detroit, MI and learn about the latest innovations, structural designs and global expansions throughout the seating industry.
The event will be held July 27-29 at the Double Tree Hilton Suites Detroit Downtown. For more information, including registration, visit SeatingInnovators.com.