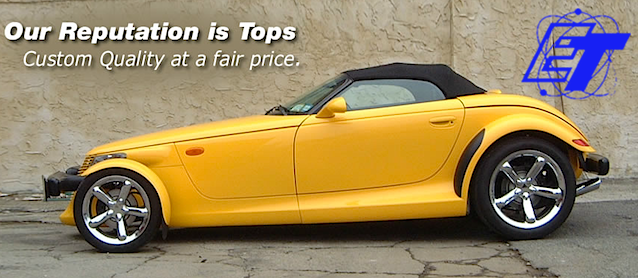 Electron Top published a number of fantastic flyers this month — ranging from helpful product information to notes about proper flag etiquette, and even a note of support for The Hog Ring. We've made the flyers available for you to download for free, so check them out!
The set of flyers kicks off with Electron Top pledging to always "support the little guys." Of course, "the little guys" they're referring to are us – small, independently owned and family operated auto upholstery shops. Give the flyer a read and you'll understand why we're such big fans of Electron Top.
Below is a short excerpt from the piece:
This country was founded on small businesses. Without the local mercantile, blacksmith or farmer, our country would not have succeeded. Local merchants and suppliers are the thread that tie the residents to their community. They are the schools, pharmacies, delicatessens, mechanics, local grocers, hardware stores, 5 & 10's piano teachers and book stores, (forgive me if I have forgotten some). They are the providers of first jobs, memories, supporters of children and their sport's teams and their buildings help provide locations for the community to gather. "A farmer must tend to his sheep if he wants wool for his clothing."
Our amazing country is still full of wealth and opportunity, although in my opinion there is a growing sense of entitlement; it is still a country full of tremendous possibilities for anyone living here or emigrating here. Many immigrants, including our Grandparents, came to this country drawn to the appeal of its freedom, immense opportunities and the idea that they could promote themselves independently in business. They could preserve, work hard and hopefully prosper in owning their own businesses; at least the possibility is greater here than some other countries. How blessed WE are. So… "What does it matter if small businesses survive? … because most of our Auto Trim Industry is made up of them!"
The next two flyers pertain to Electron Top's quality products. One promotes the company's custom tops, which can be manufactured to your specifications and produced in many non-conventional colors and materials. The other flyer provides tips and advice on installing a convertible top on the 2004-2009 Nissan 350Z.
Seeing as July is an important month in U.S. history, Electron Top also published a flyer explaining "American Flag Etiquette." Every American shop that proudly displays the flag should read this article, as it's both informative and insightful.
Lastly, Electron Top distributed a flyer raising awareness about The Hog Ring! In fact, Electron Top has been a devoted supporter of our online community since the very beginning, championing our cause to strengthen and grow the auto upholstery industry. We couldn't be prouder to call them sponsors!
Check out the flyers below:
null
Of course, Electron Top also provides great sales and promotions. For details on how you can save $25 (or more!) on your next convertible top purchase, check out the coupon below.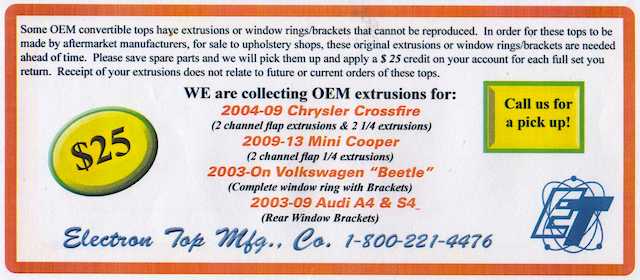 To learn more about Electron Top's quality products or to set up a business account, visit ElectronTop.com or call (800) 221-4476.