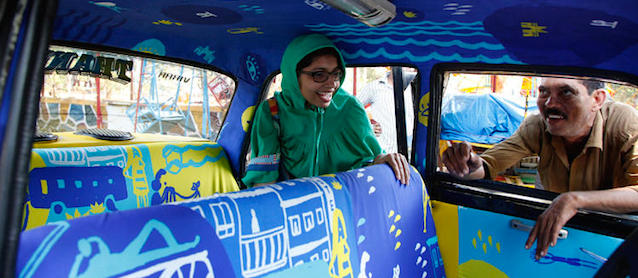 Taxicab interiors are usually drab, dirty and dilapidated — especially in developing countries where there are fewer restrictions on vehicle maintenance.
In Mumbai, India, however, a new initiative called "Taxi Fabric" is making strides in sprucing up the cabins of ordinary taxicabs with eye-catching designs. Best of all, auto upholsterers are one of the many beneficiaries.
Fast Company recently interviewed founder Sanket Avlani and profiled the initiative. Below is an excerpt from the article:
Avlani started an initiative called Taxi Fabric that asks emerging Indian designers to create textile designs for the inside of the city's cabs. The project, which Avlani now runs with the help of project manager Mahak Malik and writers Nathalie Gordon and Girish Narayandass, connects designers with taxi drivers to brighten up the taxi's interiors and showcase the work of local designers. […]
Taxi Fabric has facilitated the design of six cars to date and are hoping to expand the project—which at this point is mostly self-funded or supported through sponsorships — with money raised from their Kickstarter campaign. They play the middle man, matching up designers with drivers and overseeing the production of the fabric. Some drivers have given designers free range to do as they please, while others have more of a hand in the design.
Avlani is a graphic designer, as are most of the designers he's worked with on the project so far, so he consulted with textile designers to figure out which fabric was best to use. After considering the practical elements—how long it will last, how it will hold up against dirt and water—he settled on a polyester-blend that looks and feels like canvas. Once the design is finished, it's transferred onto fabric using special heat sensitive dyes through sublimation. The fabric is then handed over to a tailor who handles the upholstery and sews on a fabric tag with the name of the designer and the sponsor.
What's great about this initiative is that it benefits a range of people — including the designers, who get to show off their talents to Mumbai's 19 million residents; the auto upholsterers, who are paid by "Taxi Fabric" to trim the drivers' cars; the taxicab drivers, who get their cars upholstered for free and use the new interiors to attract more customers; and, of course, city residents who gain an appreciation for art and custom car interiors.
To learn more about "Taxi Fabric," watch the following video:
To read the full article by Fast Company, see "Splashy Fabric Freshens Mumbai Cabs to Showcase Local Designers." To learn more about "Taxi Fabric," visit TaxiFabric.tumblr.com.
If you'd like to donate a couple dollars to help fund the initiative and support Mumbai-based designers, auto upholsterers and taxi drivers, you can do so through Kickstarter.