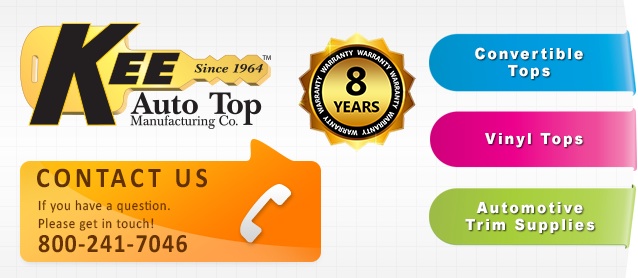 Interested in buying quality products for a discount price? Then check out Kee Auto Top's latest newsletter, which features hot promotions, cool products and even a helpful "Trimmer Tip."
To kick things off, Kee is running a sale on universal double-seam and center-seam vinyl tops. Colors available include almond, sapphire blue, dark garnet red metallic, gunmetal, autumn maple metallic, chestnut metallic and buckskin.
What's more, Kee is offering freight savings on convertible tops and rear glass windows on a number of popular vehicles — including Audi, BMW, Mercedes-Benz, Mitsubishi, Porsche, Saab and Toyota. Tops are available in black or beige, Stayfast or Twill.
Auto upholstery shops that buy or sell convertible top care products will also appreciate Kee's full line of RaggTopp vinyl and fabric cleaners, protectants and brushes. Buy a case and save!
How much can you save? This month's promotions are so good Kee doesn't want to just put them out there for the public. So to find out, you'll have to give them a call and ask: 800-241-7046.
As always, save even more by emailing info@keeautotop.com a picture of one of their convertible or vinyl tops installed. If they use your photo in an ad, they'll take 5% off your next convertible or vinyl top order!
For more details on savings and even a clever "Trimmer Tip," check out the August 2015 newsletter published below: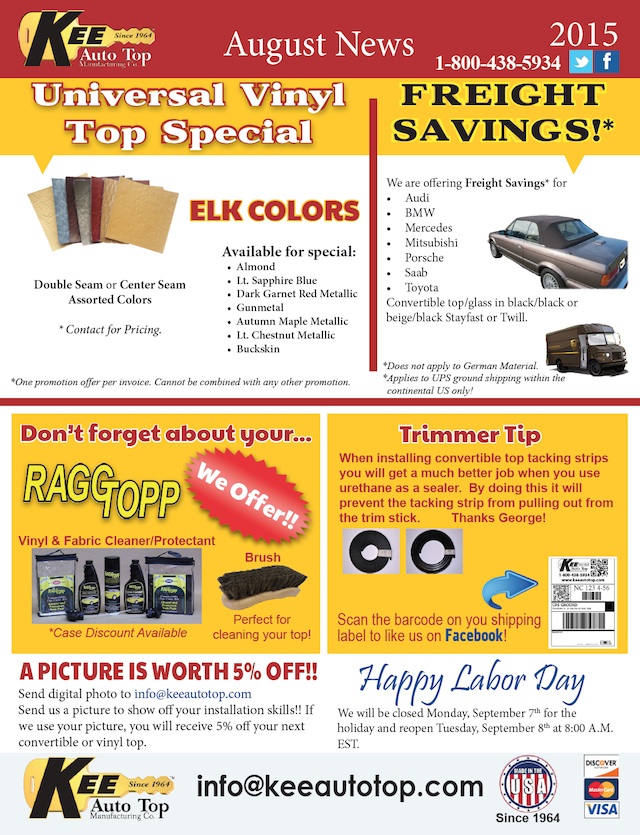 If you haven't already, make sure to follow Kee Auto Top on Facebook and Twitter — where you can learn more about the company, it's fantastic products and stay on top of all their latest sales and promotions.
For additional information on Kee Auto Top's products, visit KeeAutoTop.com or give them a call at (800) 241-7046 or (800) 438-5934.