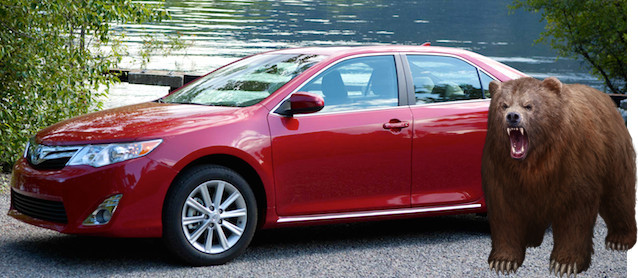 As strange as it seems, we come across a lot of stories about bears shredding car interiors. Apparently, it's not that uncommon for one to open a car door in search of food and mistakenly lock itself inside — especially in the U.S. Northwest and Canada.
That's exactly what happened to Ellen Stolpe's Toyota Camry on a recent visit to Montana's Mount Maurice.
Local news site Ravalli Republic explains:
A black bear that entered and then got trapped inside a Toyota Camry early Thursday morning south of Red Lodge demolished the interior of the car, went to the bathroom and finally exited by bolting out through the front windshield when it was startled by a human.
"The whole inside is destroyed," said Greg Creasy, who shot photos of the car that was parked outside the Yellowstone Bighorn Research Association's lodge near the base of Mount Maurice.
Despite the destruction, the car's owner — retired Pittsburgh middle school teacher Ellen Stolpe — said she laughed because the incident was so unusual.
"I guess it's part of the Montana experience to get claw marks on the dashboard," she said.
The incident is one of several over the past few days. Earlier in the week a bear chewed up two motorcycles to get to food inside saddlebags while the bikes were parked at Rock Creek Resort, also south of Red Lodge. And bears have broken into two homes in the area, as well. […]
Inside the Camry, Creasy said the bear had pulled on the driver-side door so hard in an attempt to get out that it bent the metal inward. Photos show the upholstery shredded and a large pile of scat left on the floor.
"That was clearly a panic dump," Stolpe said. "Oh my goodness, that poor bear." [read more]
Shredded interior and panic dump? Thanks, but no thanks. This is one car interior I don't want to work on.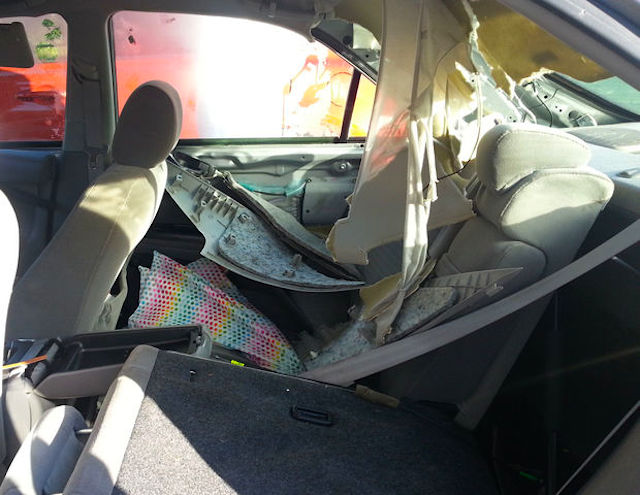 Talk to us: Every auto upholsterer has seen his fair share of destroyed car interiors. What's the most bizarre backstory you've heard? Let us know in the comments section below.