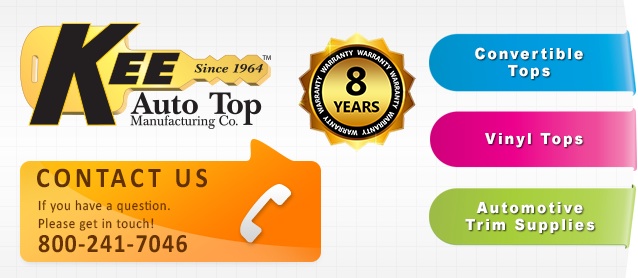 Interested in new products, free shipping and more? Then check out the September 2015 issue of Kee Auto Top's newsletter!
Among the new products on promotion this month is the convertible top for the 2013-2015 Chevrolet Corvette C6 — which features a defroster window and carries an 8-year warranty.
Also on promotion this month is 27SP Dark Green/Black Pinpoint Vinyl, which looks gorgeous.
How much can you save? This month's promotions are so good Kee Auto Top doesn't want to just put them out there for the public. So to find out, you'll have to give them a call and ask: 800-241-7046.
That's not all, Kee Auto Top is offering FREE SHIPPING all month on convertible top/glass in black/black or beige/black Stayfast or Twill for the following makes: Audi, BMW, Mercedes, Mitsubishi, Porsche, Saab and Toyota.
For more details, check out the September 2015 newsletter published below: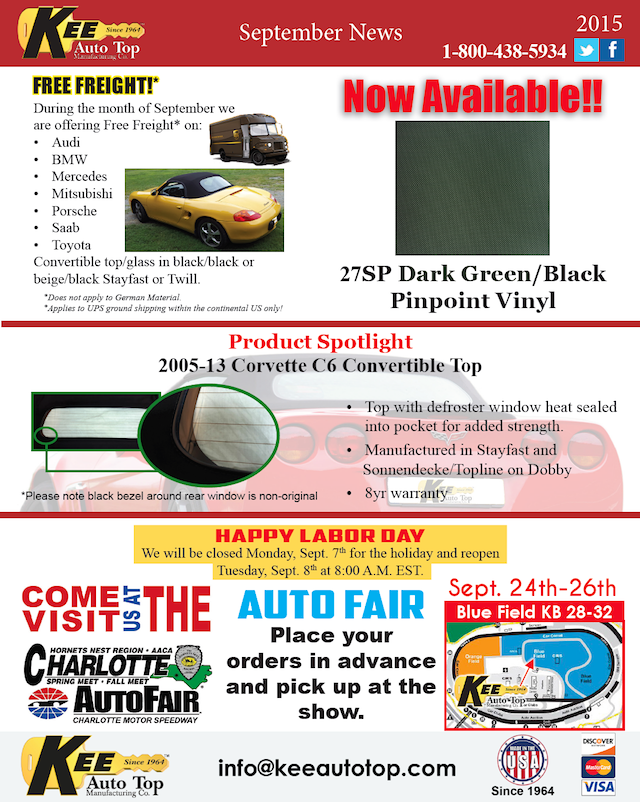 Want to meet the Kee Auto Top team? Then stop by the "Charlotte Auto Fair" in Charlotte, North Carolina on Sept. 24-26. There you can learn about their latest products, take advantage of promotions and more!
If you haven't already, make sure to follow Kee Auto Top on Facebook and Twitter — where you can learn more about the company, it's fantastic products and stay on top of all their latest sales and promotions.
For additional information on Kee Auto Top's products, visit KeeAutoTop.com or give them a call at (800) 241-7046 or (800) 438-5934.