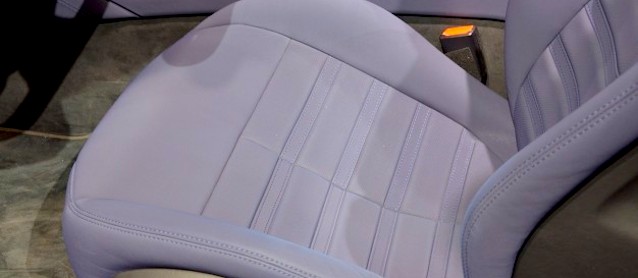 It's practically unheard of that a super luxury automaker would upholster its interiors in faux leather — but that's exactly what Ferrari is doing. Mycro Prestige, the company's very own synthetic leather, is even being marketed as an upgrade to the real thing.
Car and Driver recently caught up with Andrea Bassi, Ferrari's head of personalization, at the Frankfurt Auto Show to ask why super luxury car buyers would ever consider having their interiors trimmed in fake leather. What they found out is fascinating.
According to Bassi, customers who choose Mycro Prestige recognize that in many ways it's superior to genuine leather. Unlike real hides, it's waterproof, fireproof, and doesn't fade or crack in the sun. While other faux leathers claim the same, most are easily discernable as imitations. Mycro Prestige, on the other hand, is a perfect forgery.
Car and Driver explains:
In the same way that automakers shun real suede in favor of microfiber textiles to create longer-lasting, fade-free surfaces in their sportiest models, Ferrari's new Mycro Prestige upholstery aims to deliver a superior experience, and it's perhaps the most convincing faux leather in the business. […]
Why would anyone trade the company's famously soft aniline leather for a synthetic? For one reason, it's water repellent, which makes top-down motoring in, say, Seattle or the U.K. more worry-free. Like MB-Tex, the long-serving Mercedes-Benz upholstery that looks and feels like standard Mercedes leather, Mycro Prestige won't fade or crack over time. That means it keeps looking fresh for Ferrari owners who drive regularly, especially important for California T owners, since it's the current Ferrari car most likely to be chosen for commuting duty. The material also is flameproof…
Among the latest of 150 catalog items available through the Tailor Made personalization program, Mycro Prestige is supple and rich, and its look is uniform with none of the rubbery texture one might associate with synthetic leather. It's produced exclusively by an Italian supplier. Indeed, the intricately stitched and ribbed upholstery in the show car fooled nearly every eye and finger in Frankfurt. [read more]
Whereas synthetic leather was once considered a product for the budget-minded, Ferrari is transforming it into a "prestige" buy. The automaker has positioned Mycro Prestige as a sportier alternative to leather. It's even treated as an upgrade and costs more than the genuine article. Customers who want it can make a request, but only through Ferrari's elite bespoke program.
It's yet to be seen if Ferrari's wealthy customers will embrace Mycro Prestige. If they do, it could mark the beginning of the end for real leather.
What do you think? Is this an ingenious marketing ploy by Ferrari or is it possible that Mycro Prestige really is better than genuine leather? Tell us in the comments section below.