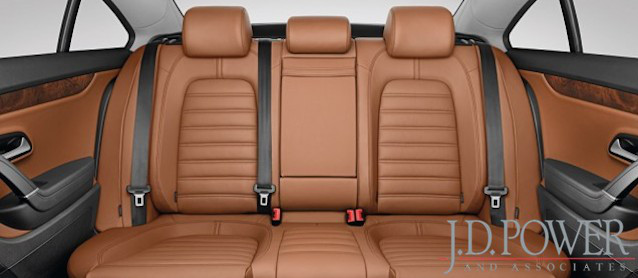 As auto upholsterers, we can easily tell the difference between genuine leather and synthetic leather, which automakers often call "leatherette." However, a new report by J.D. Power & Associates reveals that a lot of car owners can't.
The firm's "2015 Seat Quality and Satisfaction Study," which rates seat quality and owner satisfaction, provides loads of interesting information about car seats that automakers and manufacturers use to improve their offerings.
The Auto Channel read the full report and pulled out these interesting tidbits about leather vs. leatherette:
Many of today's entry-level luxury vehicles offer leatherette as standard seating material, with leather only available in upgraded trim levels. Among owners of one midsize premium car model, 94 percent indicate their vehicle has leather seats; however, given owners' survey responses regarding the trim level of their vehicle, approximately 13 percent of these owners actually have leatherette. In another example, 79 percent of owners of a mass market midsize car say their vehicle has leather seats when in fact 41 percent of them most likely have leatherette given the vehicle's trim level.
In the midsize premium car segment, where both options are frequently offered, models that offer both seat material options receive similar satisfaction ratings for their seats in comparison with models that offer only leather seats. Models that offer both leatherette and leather seat options actually perform slightly higher (0.06 points) for the feel of the seat material than models that offer authentic leather seats only (9.00 vs. 8.94, respectively, on a 10-point scale), but this highlights the fact that owners perceive little difference between the two seating materials. [read more]
Interestingly, J.D. Powers views car owners' inability to tell the difference between leather and leatherette as a good thing.
"It's really a compliment to the suppliers that they can produce a synthetic material that customers indicate looks and feels so much like leather that they often times cannot tell the difference, despite automakers marketing the leatherette as a synthetic leather-like material," said Brent Gruber, director, global automotive division at J.D. Power.
"Leatherette provides similar benefits to those provided by leather, yet at a reduced cost to manufacturers and owners and without a decline in quality or customer satisfaction," he added.
Personally, though, I'm a bit troubled by the finding. While I commend manufacturers for perfecting the art of synthetic leather, which has a lot of positive attributes (lower price, easy maintenance, better for the environment, etc.), it bothers me that many car owners aren't aware that their seats are trimmed in faux material. This means automakers and car dealers are either purposefully duping their customers or neglecting to educate them on the differences between leather and leatherette. Either way, it's unacceptable.
If you recall, The Hog Ring already inducted Kia Motors and Toyota Motor Corp into our "Hall of Shame" for false claims about synthetic leather. Who knows how many other automakers and car dealers are taking advantage of customers' ignorance to do the same.