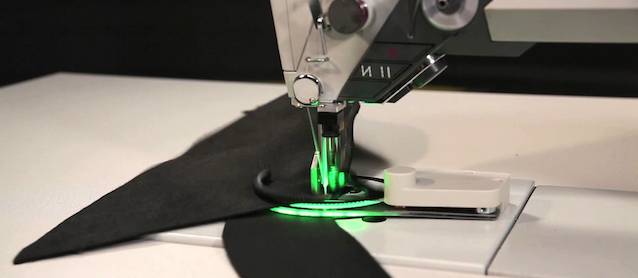 Recent advancements in sewing machine technology – such as auto thread trimming, auto needle positioning and auto backtacking – have made operating a machine easier. However, not until now has a company invented an autonomous machine that can sew just about anything on its own.
Introducing the Vetron Autoseam, the world's first fully automated sewing machine that can identify, adjust and sew together the edges of two pieces of fabric without any guidance from a skilled operator.
Using intelligent cameras with image-processing systems linked to a mechanism that guides the individual pieces of fabric edge-to-edge under the machine, Autoseam can sew 2D and 3D objects on its own. It's designed to sew medium and heavy materials generally used in the mass production of furniture, leather goods and cars.
Though Autoseam may not be practical for small auto upholstery shops, it is poised to revolutionize the textile manufacturing industry. In fact, Vetron, a subsidiary of Chinese group Typical, claims Autoseam can reduce labor by 50% and allow users to replace highly paid skilled operators with general laborers, who simply load and unload fabric into the machine.
"The idea was to invent a machine without [an] operator and to make simple process steps cheaper," Vetron CEO Holger Labes recently told Texprocess, a leading international trade fair for processing textile and flexible materials.
According to Texprocess, Autoseam is the first sewing machine of its kind to work automatically. What's more, when it hits the market next year, it will only be priced "a little bit more expensive than a traditional sewing machine."
Check out this short video to see the Vetron Autoseam in action:
Thanks to Steve Cossette of Aero Upholstery in Hamel, Minnesota for alerting us to this amazing new technology.
What do you think? In 2011, we published an article warning that robots will soon replace auto upholsterers behind the sewing machine. Is Vetron Autoseam a step in that direction? Share your thoughts in the comments section below.