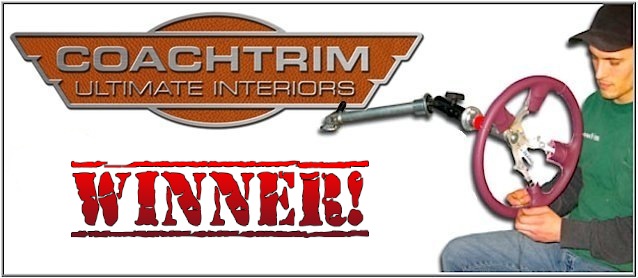 Congratulations to Steve Cossette of Aero Upholstery in Hamel, MN for winning The Hog Ring's contest for "Comment of the Week". Steve takes home this week's prize: a Flex'N Hold steering wheel bracket system, courtesy of Coachtrim.
We received loads of great comments this week – many deserving of a prize. For us, however, Steve's was the most memorable. He shared a lesson that simply and eloquently stated why what we, as auto trimmers, do is so important.
In response to our article "Sid Chavers '32 Ford Interior Build Pictorial", Steve (aka 8-Track) wrote the following:
Sids DVDs are a great way for beginners to learn some basic upholstery techniques in a short period of time. One of Sid's quotes that made a difference with me is, "As professional upholsterers, it's the little things we do that you don't see that if we didn't, you would."
While the lesson is attributed to Sid Chavers, we hadn't heard it until Steve brought it to our attention.
We like the quote because it reminds us that there are no shortcuts in quality craftsmanship. Value lays in every step of the upholstery process – from the initial design sketch to the last hog ring.
DIY-ers, overnight upholsterers and cheapskate customers might not value our craft, but they'll also never be able to replicate what we do. Skill, experience, artistic vision and a supreme dedication to detail will always set us apart.
Sid's quote is a great one. Perhaps even a code to live by. Thanks Steve for sharing it with us.
We also want to thank Coachtrim – a full-service interior shop that certainly adheres to that code – for sponsoring this week's contest. If you do a lot of steering wheel covers, definitely contact Coachtrim and purchase your Flex'N Hold today. It'll help save you loads of time and frustration – allowing you to focus all of your attention on the job at hand.
To learn more about Coachtrim visit www.Coachtrim.net.