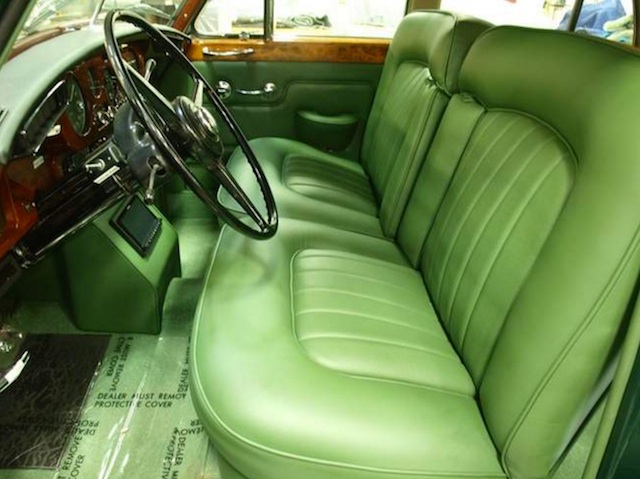 In August 2013, we published an article asking: "Whatever happened to green car interiors?" Gillin Auto Interiors in Middletown, New York, recently answered that question when they restored the cabin of this gorgeous 1963 Rolls-Royce Silver Cloud.
The Times Herald-Record, which profiled the classic restoration, wrote:
Gillin Auto Interiors on Route 17M in Middletown was lucky enough to get a beautiful 1963 Rolls-Royce Silver Cloud in their shop. The vehicle was needing a new interior, but the owner was adamant about making sure the car was brought back to its original form using all the correct materials.
This interior restoration project was not an easy one for the shop. First they had to find the correct material and wanted to make sure it was of high quality, just like the car. This project was about being "right," not "right now."
Gillin Interior Specialist, Guido Pedraza, was given the painstaking task of dismantling the interior, making exact patterns with the new material, green English leather, green English wool and green/tan wool cloth all imported from the UK, and stitching it all back to original. The project took a little over 10 weeks. A bit of water damage on the wood trim was discovered, and Gillin Interior Specialist, Gene Tasso, masterfully restored it back to original, giving the finished project that last little touch. A champagne toast was definitely in order.
If you read our article "10 Questions for Master Trimmer Dan Kirkpatrick," you know that interior restoration is no easy task. It's just as challenging as custom work — with, of course, the added difficulty of ensuring that every last detail is period correct.
Hats off to Gillin Auto Interiors, who not only displayed fine craftsmanship in this restoration project, but went the extra mile to ensure that every last detail is accurate.
To learn more about this restoration project and see additional photos, check out "A Rolls-Royce gets the interior it deserves." To see more of Gillin Auto Interiors' work, visit their website and Facebook page.