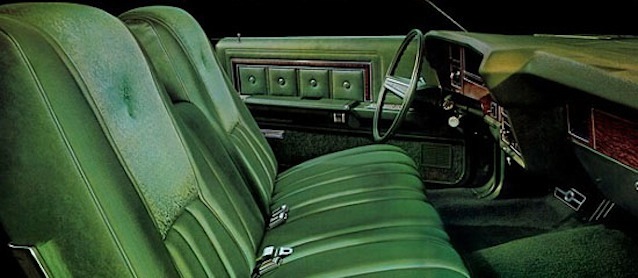 Whatever happened to green car interiors? Or red, or blue, or white for that matter? Somewhere along the way, automakers lost interest in colors other than grey, beige and black upholstery. And quite frankly, it's become old and boring.
I miss the days when General Motors, Ford and Chrysler offered an array of upholstery colors to choose from. Remember opening the door to a Monte Carlo and seeing blue velour interior? I'm not just talking blue accents. I mean everything was blue – the dash, headliner, carpet, door panels and seats. Those days are long gone.
Nowadays, car companies expand their grayscale color pallet with a million different shades of the same damn color. Open a Detroit Book and see for yourself. While you're at it, somebody please tell me what the hell is the difference between Medium Flint, Dark Flint and Medium Dark Flint?
I find it hard to believe that high-paid automotive designers with all of their prestigious degrees can't possibly design an attractive, uniquely colored interior when we trimmers have been doing it for years. Maybe they're just scared and have been playing it safe. The truth is, there's a fine line between tacky and beautiful when you experiment with colors like green. I challenge manufacturers to create a green car interior that can change the public's perception of so-called unusual colors.
Then again, maybe the problem isn't just with designers. Maybe we need to stop letting them tell us what looks good and start trusting our own instincts. I think if you asked most people, they'd be open to more color in their cabins.
My first car was a light green 1979 Chevrolet Caprice Classic with hunter green upholstery. Of course, back then I thought it was ugly so I had it painted black and redid the upholstery in grey. If I had that car today, I think I would take the "green challenge" and dare to make the most badass green-upholstered interior anyone has ever seen. The kind of upholstery that would have my customers thinking twice about what colors they want their interiors.
I've grown a lot since then. For my second car, I chose a cinnamon color for the upholstery, a shade I had picked long before I decided what color to paint the exterior. I had fallen in love with the color of the upholstery and decided everything else would compliment that.
I'm currently restoring a 1979 El Camino and have no idea what color to paint it. But one thing I know for sure, I refuse to change its interior to any other color than the original maroon.