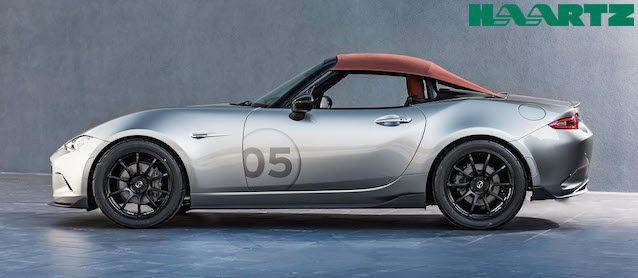 If you're attending the 2015 SEMA Show, be sure to stop by Mazda's booth (North Hall / #11647) to check out the 2016 MX-5 Miata Spyder, which features a head-turning bikini-style convertible soft top made from material supplied by Haartz Corporation.
A perennial favorite among roadster enthusiasts, the new Miata dons Stayfast C material for its topping and binding. Stayfast C features an acrylic square weave facing, rubber inner-layer and filament polyester backing.
"As the leading supplier of convertible soft-top material for OEMs globally, we know how important it is to maintain a strong line of material for the aftermarket," said Matt Williams, director of business development for Haartz. "We want to ensure that customers are getting the highest quality material for their replacement and customization projects."
In addition to its quality construction, the Miata's Stayfast top is available in a unique brick color that's sure to grab attention.
"The brick color is achieved through a unique blend of three color fibers in the face fabric," said Williams. "This blend and resulting color was chosen by Mazda Design to specifically compliment the vehicles body color."
The 2016 Miata is the latest vehicle outfitted in Haartz topping to lead the resurgence of soft-top convertibles. Other such models include the Smart ForTwo, Chevrolet Camaro, Volkswagen Beetle, Buick Cascada, Renault Twingo and BMW 2-Series.
"Haartz maintains a bullish forecast for the global open-air market," explained Williams. "This perspective is confirmed by independent third party forecast data gathered directly from the OEMs. Not only will there be more models, but a planned higher overall build rate for convertibles in the coming years."
That's exciting news for car buyers and auto upholstery professionals, who make a living by selling, repairing and installing soft tops.
To see and feel the new Mazda convertible top for yourself, head on over to SEMA booth #11647 and check out the 2016 MX-5 Miata.
To learn more about Haartz, visit Haartz.com.