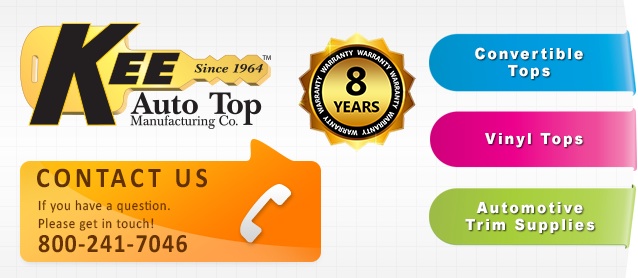 Kee Auto Top dedicated its November 2015 newsletter to sharing tips on how to care for a convertible top during the winter season and measure bow height — two skills every successful auto upholsterer needs to know.
The first article, titled "Winter Maintenance for Your Convertible Top," provides six tips on how to ensure frigid weather and heaps of snow salt don't ruin an otherwise great soft top. Among the tips listed is this invaluable advice:
After a snowfall, remove all ice and snow from the convertible roof. Don't hack and chip away at ice or heavy snow, and be sure to use a soft brush or your hand wrapped in a mitt. Do not use a hard-bristled brush or ice scraper. Let your car warm up or park in a warm garage ahead of time to use temperature, not force, to loosen snow and ice. Heavy brushes and scraping could possible damage your roof fabric.
Shop owners may know this information, but rookie employees and customers probably don't. To ensure everyone understands how to properly care for a convertible top during the winter months, assign this article as reading homework for staff and consider printing copies to leave in customers' cars.
Another great tip shared by Kee Auto Top this month is how to properly measure bow height for convertible tops. Note only does Kee list five simple steps, but also provides an easy-to-follow diagram.
Trust us, this is not a newsletter you want to miss. Download your free copy below:
null
For those who don't know, Kee Auto Top has been a proud sponsor of The Hog Ring since 2013. We chose to partner with Kee because of their high-quality products and outstanding customer service.
Through sponsorship, Kee Auto Top is championing our mission to strengthen and grow the auto upholstery industry, as well as helping to offset the costs associated with running this website. Please show your appreciation by giving them your business.
If you haven't already, make sure to follow Kee Auto Top on Facebook and Twitter — where you can learn more about the company, it's fantastic products and stay on top of all their latest sales and promotions.
For additional information on Kee Auto Top's products, visit KeeAutoTop.com or give them a call at (800) 241-7046 or (800) 438-5934.