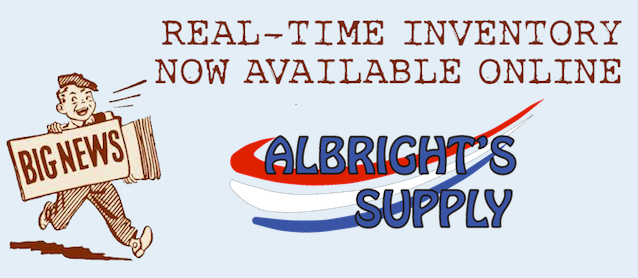 Nothing stinks more than finding out that the fabrics or supplies you need to finish a job on time and budget are out of stock. That's why Albright's Supply, one of the auto upholstery industry's leading suppliers, is excited to introduce real-time inventory!
Here's how it works: Every day at 12:00 PM and 6:00 PM CST, the good folks at Albrights Supply will sync their state-of-the-art inventory system with their online store. This will update product counts on the website, allowing shop owners to check what's in stock and what isn't before committing to a date to finish a job.
"We're very excited to provide this feature for our customers and hope it makes their shopping experience with Albright's that much better!" said Chris Albright, owner of Albright's Supply.
Of course, that's not all. Albright's Supply offers a long list of awesome services — including free foam cutting and free shipping. And if you're looking for a great bargain, check out their 10-yard store, where they sell hard-to-find quality fabrics at a discount price.
Specializing in automotive and marine trim, Albright's Supply has one of the largest inventories in the United States and a network that extends throughout the country.
Browse their products online at AlbrightsSupply.com, and set up a free business account by calling (662) 287-1451.