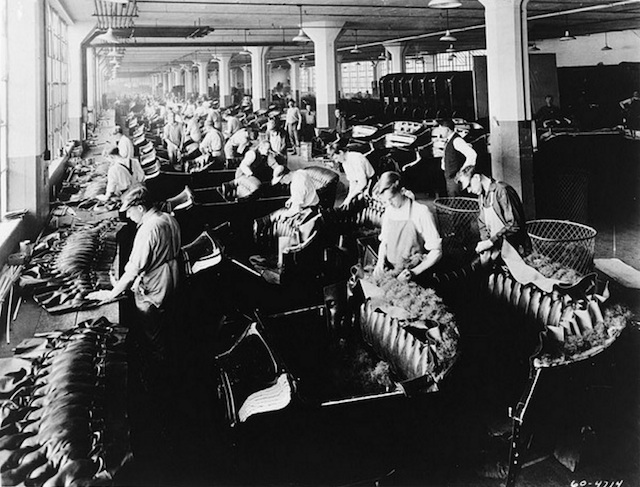 Check out this beautiful photo taken in 1915 of an upholstery assembly line at the Dodge Brothers Motor Company auto plant in Hamtramck, Michigan.
Dodge Brothers Motor Company was the precursor to U.S. automaker Dodge, before it was bought up by Chrysler. The company was founded by brothers John and Horace, who as young boys received mechanical training while working in their father's machine shop in Niles, Michigan.
As adults, the brothers moved to Detroit and took up a number of odd jobs in machine shops — excelling in everything from the manufacturing of ball bearings to bicycles. Eventually, after opening their own machine shop and manufacturing parts for the fledgeling auto industry, they caught the eye of Henry Ford, founder of Ford Motor Company.
Ford paid John and Horace in money and stocks to manufacture chassis for his Model T. And it wasn't long before other, smaller automakers followed suit. In fact, the brothers were so sought after that they had to build a plant in Hamtramck just to keep up with demand. But when Ford asked them to be his exclusive supplier in 1913, they declined and sold their stocks in Ford Motor Company to found their own line of vehicles under the name Dodge Brothers Motor Company.
Three years later, Dodge Brothers Motor Company became the fourth largest automaker in the United States.
If you think the above photo and story of the Dodge Brothers is interesting, check out The Hog Ring's "Industry History" section.